Desktop

Mobile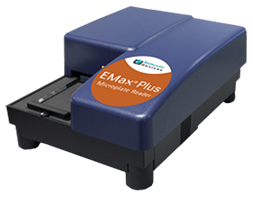 EMax Plus Microplate Reader
Visible absorbance microplate reader in a compact footprint
Eight filter options provide simplified assay setup
The EMax® Plus Microplate Reader delivers a robust solution in an entry level platform. Eight filters enable visible-wavelength absorption measurement applications such as protein quantification, cell viability and ELISA. The reader measures both flat and round 96-well microplates and ensures accuracy by automatic lamp calibration prior to each reading.

Cover a wide range of applications
Eight filters cover a wide range of applications—ELISAs and immunoassays; protein quantitation such as Bradford, Lowry, BCA, and DC protein assays; phosphatases and kinases; cell viability.

Simplify assay setup
SoftMax® Pro Software simplifies assay setup with predefined protocols, standard data reduction settings, automatic data recovery, and result visualization and analysis.

Customize options
Customize a variety of options such as discontinuous kinetics feature for pausing and resuming kinetic reads, predefined calculation options for common data analysis functions, and easy data export.
ELISA Workflow Using the EMax plus Microplate Reader and MultiWash+ Microplate Washer
Features

Easy data visualization
Powerful curve fitting protocols and statistical analysis features are included for easy visualization of acquired data as grayscale or color map images, 3D graphs, kinetic plots, or reaction rates.

Compact design
The small footprint and low profile saves space on the bench.
Latest Resources
Featured Applications
How can we help advance your next big discovery?
Our highly-qualified teams are on the frontlines with our customers, conducting remote or on-site product demonstrations, webinars, and more to help you solve your tough research challenges. How can we help you today?
I'd like to…
Applications of EMax Plus Microplate Reader
Specifications & Options of EMax Plus Microplate Reader
*Using lowest settings and speed read when available.

Resources of EMax Plus Microplate Reader
Related Products & Services of EMax Plus Microplate Reader