3D Biology
The emerging 3D biology field uses human model systems like organoids to revolutionize drug discovery and our understanding of disease.
Unlock the full potential of 3D biology
Pioneering a new future of drug discovery rooted in 3D biology will empower researchers to personalize therapies, reduce a medicine's time to market, and enhance quality of life for patients around the world.
Molecular Devices has been a life sciences industry leader for 40 years. We believe in the revolutionary promise of 3D cell models to advance next generation drug discovery. Whether you're making the transition from 2D to 3D cell culture for the first time, scaling your organoid development program, or integrating a fully-automated screening workflow, we're here to help.
Our robust portfolio of end-to-end high-throughput solutions, user-friendly AI-powered data analysis, and committed 3D biotechnology investments, will support you in overcoming all your 3D biology challenges, starting with:

Provision of large batches of standardized assay-ready organoids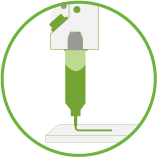 Scale in-house organoid and 3D tissue development with an automated bioprinter, high-content imager, and AI-powered image analysis software.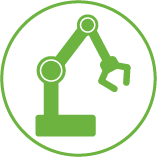 Streamline end-to-end workflows with next-gen 3D biology technologies that are customized into a fully-integrated, automated setup for any lab and supported by machine learning-enabled data analysis solutions.
https://share.vidyard.com/watch/zbx5hvfDZWnGzvrWpoM9id
Dr. Oksana Sirenko, Sr. Scientist, explains how 3D cell models and high-content imaging are helping to advance Drug Discovery
Comprehensive solutions for an fully-integrated, end-to-end automated high-throughput screening workflow
Our specialized team of automation engineers and PhD-level scientists offer services from consultation to implementation. We take time to understand your application process and biological requirements to customize a solution that fits your research needs — one that delivers reproducible results, by verifying optimal performance in-house prior to installation in your lab — helping safeguard your investment with proof of concept and validation services.
3D Biology: The paradigm shift in next-generation drug discovery [interactive infographic]
The revolutionary promise of 3D Biology
We believe organoids are the future of next-gen drug discovery, offering revolutionary promises to reduce drug development timelines, overcome limitations of conventional cell models, and move us away from animal research.
Are you ready to transition from 2D to 3D biology, but not sure where to start? In our latest blog, we show you what it takes to enter into this new drug discovery paradigm.

Custom Organoid Expansion Service
Quality-controlled organoids are manufactured at scale for high-throughput screening, leveraging proprietary bioreactor and bioprocess technology to produce reliable and predictive PDOs.
Growing organoids manually can present significant challenges for researchers that delay experiments and increase costs. Most common is an inability to produce sufficient numbers of organoids that are homogeneous in quality and size. Batch-to-batch consistency is virtually impossible without the standardized, repeatable processes employed in a regulated, industrial environment.
Molecular Devices has global leadership in the scale-up and industrial manufacturing of human-derived 3D organoids. Facilitated by our unique, patent-pending bioprocess, our semi-automated procedure uses controlled, monitored conditions to produce large numbers of standardized PDOs within a defined size range. Rigorous quality control ensures reduced batch-to-batch and user-to-user variability.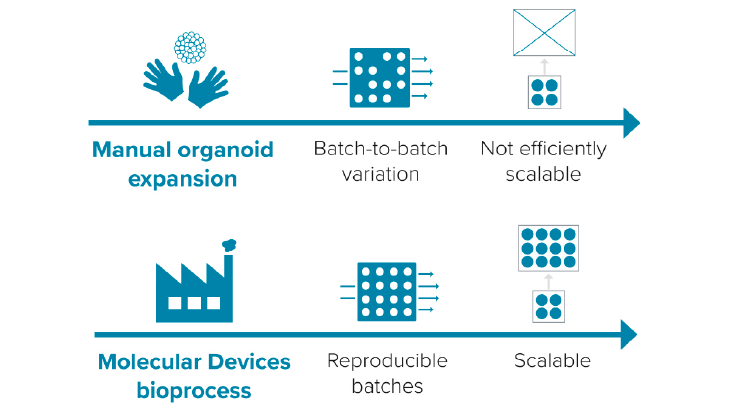 Proprietary assay-ready organoids at scale for drug discovery
Organoid line expansion service –We offer a unique, bespoke service to scale-up your own organoid lines using our patent-pending bioprocess, which can produce up to 6 million organoids per batch.
Assay-ready organoids – After expansion, the bioprocess-grown organoids can be supplied back to you as customized assay-ready vials to be used at your convenience for specific downstream assays.
Bespoke PDO line generation – We can also generate and grow custom PDO lines derived from patient-derived xenograft (PDX) tissue.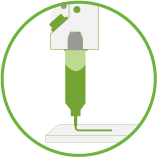 Automated 3D bioprinting HCS solution
Turnkey platform integrates flexible robotic automation with high-content imaging of complex 3D cellular models, enabling high-volume organoid screening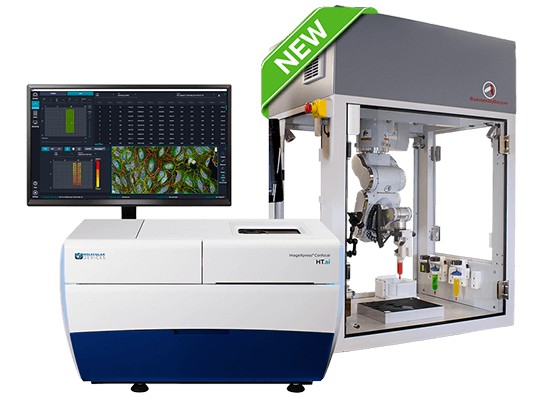 BioAssemblyBot® 400 (BAB400) by Advanced Solutions is an intelligent robot for drug discovery that includes specific enhancements to Advanced Solutions' existing bioprinting platform to help life scientists overcome the challenges of reproducing consistent, complex organoid models at scale for drug development. Out-of-the-box integration of the BAB400 with Molecular Devices' ImageXpress® Cellular Imaging Systems enables turnkey automation of cell health monitoring and end-point assays.
In a fully automated enclosure, BAB400's six-axis robotic arm uses a wide range of interchangeable hands to systematically reproduce organoids, while the ImageXpress Confocal HT.ai system and machine learning analysis inform the modeling and screening process with high-content cellular imaging information for increased precision.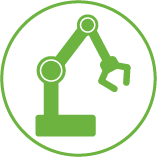 Lab Automation & Customization
Streamline end-to-end workflows with next-generation 3D biology technologies, customized into a fully-integrated, automated setup for any lab.
The new Organoid Innovation Center at Molecular Devices combines cutting-edge technologies with novel 3D biology methods to address key challenges of scaling complex 3D biology.
The collaborative space brings customers and researchers into the lab to test automated workflows for organoid culturing and screening with guidance from in-house scientists.
An end-to-end solution standardizes the organoid development process with cell culture, treatment, and incubation, through to imaging, analysis, and data processing, delivering consistent, unbiased, and biologically-relevant results at scale.
Featured Research & Applications
How can we help advance your next big discovery?
Our highly-qualified teams are on the frontlines with our customers, conducting remote or on-site product demonstrations, webinars, and more to help you solve your tough research challenges. How can we help you today?
I'd like to…