How to Develop Monoclonal Cell Lines for Stem Cell Engineering
Monoclonal assurance is undeniably critical in cell line development for generating therapeutics, such as monoclonal antibodies or cell-based therapies. To utilize a cell line for therapeutic use, a researcher must prove that the cells in a colony are derived from a single cell. Simply visualizing colonies in plate wells or using a confidence level of monoclonality does not constitute sufficient proof of monoclonality if there is no clear way to track colony growth from a single cell. Now, what else can you do to produce monoclonal cell lines and validate their monoclonality?
Molecular Devices' CloneSelect® solutions present much-needed workflow technologies for monoclonal cell line development. We recently discussed the current challenges and opportunities to improve stem cell line engineering with Gargi Roy, a scientist in the Department of Biopharmaceutical Development at AstraZeneca.
Previously, Roy and her research team used the ClonePix® FL to produce therapeutic monoclonal antibodies from Chinese Hamster Ovary (CHO) cells [1]. When they shifted their focus to stem cell engineering, it became clear that the two workflows had differences despite the common thread of monoclonal antibody production.
The Stem Cell Therapy team at AstraZeneca has been using our CloneSelect products for stem cell engineering and monoclonal development. In addition, Roy detailed how her team grows monoclonal cell lines with higher accuracy with the help of Molecular Devices' clone screening solutions. This article also covers the following:
Overview of stem cell engineering
Stem cell engineering involves converting somatic cells - any biological cell except for sperm and egg cells - or embryonic cells into stem cells with an ability to differentiate into all cell types. This approach aims to develop various cell models for disease modeling, personalized medicine, drug discovery, and stem cell-based therapeutics, such as monoclonal antibodies.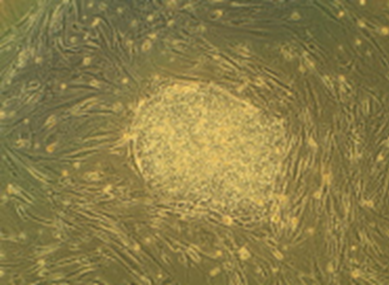 The two main stem cell engineering approaches are as follows:
Induced pluripotent stem cells (iPSCs): They are converted from somatic cells via the introduction of transcription factors.
Embryonic stem cells (ESCs): Derived from undifferentiated embryonic inner mass cells.
What both stem cell types have in common is that you can lever them to produce monoclonal antibodies. Furthermore, stem cell-mediated monoclonal antibodies possess certain advantages over recombinant monoclonal antibodies, such as better penetration into the diseased area and a higher blood-brain-barrier (BBB) crossing rate. [2].
Single-cell isolation with the CloneSelect Single-Cell Printer
The first question one might ask is, what makes our CloneSelect workflow solutions stand out in making monoclonal cell lines and subsequent monoclonality assessment? Imagine being able to simultaneously deposit a single cell into a well and assure monoclonality with visual proof at time of sort.
The CloneSelect Single-Cell Printer Series ensures seamless single-cell isolation and promotes maximum clonal outgrowth due to its gentle cell dispensing while eliminating the possibility of cross-contamination with other cell lines. Its working principle lies in its microfluidic technology that gently encapsulates single cells in liquid droplets and seeds them into a well. Plus, it captures five images per every dispensed cell, providing image-based proof of single-cell isolation and deposition at time of sort.

For such an intricate system, the CloneSelect Single-Cell Printer is easy to operate with our proprietary software. Once your lab completes a short training with our on-staff team of Field Application Scientists, you will immediately benefit from its user-friendly and cell-friendly design. The term "cell-friendly" refers to two things:
Absence of high energy lasers (cell-friendliness is attained through gentle, gravity-fed microfluidics)
Tiny dispensing volumes (no waste and no sample-to-sample contamination)
Perhaps most importantly, the CloneSelect Single-Cell Printer's acquisition of high-quality cell images relies on its exclusion criteria that is based on cell shape, size, and axis ratio. Through the exclusion criteria, you can clone both parental cells and engineered cells with desired properties.
How to make monoclonal cell lines: The generalized workflow
Whether you work with iPSCs, ESCs, or many other cell types, the workflow summarized below makes up the basis of monoclonal cell line production:
Single-cell printing: Isolate a single cell to begin a colony
Cell expansion and characterization: Form colonies and evaluate monoclonality and ensure your cells express the proteins of interest by running genotypic/phenotypic assays
Clonal cell lines: Cell-type-specific differentiation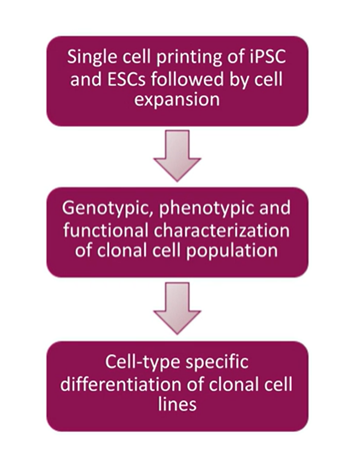 A simple workflow to start with any cell population, including your parental cell, and used to clone something out or an engineered cell to make cells any desired property.
Challenges in single-cell isolation and clonal outgrowth
Even with cutting-edge single-cell isolation technologies and monoclonality workflows, it's still possible to run into some challenges.
According to Gargi Roy, the main challenge arose for her team when they wanted to print cells in multiple plates and form multiple colonies with the same characteristics. As the number of single-cell isolation repeats increases, one often observes a steady drop in clonal outgrowth efficiency. The decline is even sharper when you want to implement animal component-free (ACF) conditions, which you need to consider if animal-free research is critical to your institution.
The discrepancies in clonal outgrowth efficiency are more prominent in ESCs than in iPSCs. The efficiency drops down to single digits with engineered ESCs. The main reason for the decline is the drop in cell viability during plating, Roy states. She also emphasizes improving the experimental design by enriching the medium, especially in ACF conditions.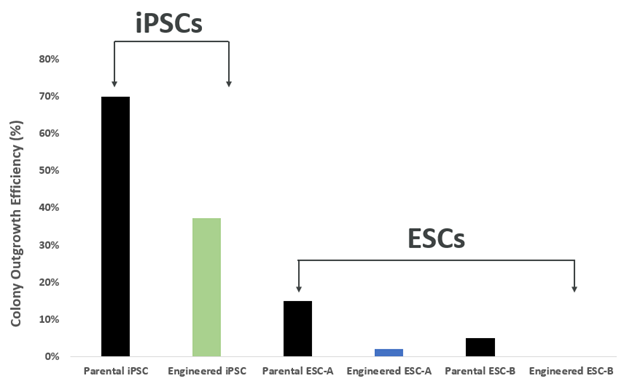 The differences in colony outgrowth efficiencies from single cells between IPSCs and ESCs illustrate significant discrepancies in ESCs.
Even when there is sufficient clonal outgrowth, you must take great care to prevent apoptosis. A timely harvest of 8-10 days is essential. It would help to feed your colony daily to prevent starvation.
Aggregation of the cells is another issue that hinders the monoclonality evaluation. You must use the correct dissociation reagent to detach cells from the well surface and from one another, which is a critical step for downstream analysis.
Assurance difficulties during monoclonal cell line development
Verification of monoclonality is crucial for cell line development. You need to provide detailed proof that your cell population is derived from a single cell for regulatory filing. Roy's team found ESCs particularly hard to monitor because of their sticky surface and irregular shapes. If two ESCs in close proximity were dispensed, they would likely be detected as a single cell. Also, if you are facing a tight deadline, you could apply limiting dilution for statistics to calculate the chance of monoclonality.
CloneSelect Single-Cell Printer boasts advanced imaging techniques to prove monoclonality at the point of single-cell isolation. Not only can the printer easily distinguish between two very close cells during cell deposition, but it also allows you to trace back your colony from the day of harvest to day 0 to assure monoclonality as seen in the figure below.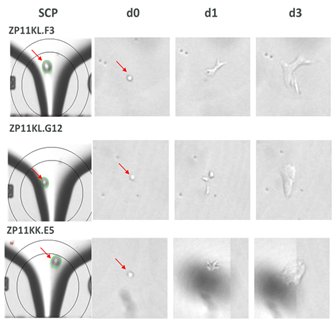 Confirmation of monoclonality and capturing single cell images with the CloneSelect Single-Cell Printer
Clonal characterization
The final component of cell line development is characterization. Once monoclonality has been assessed, you ensure this monoclonality is reflected in the genotype and pluripotency. Do the cells in your colony all have consistent levels of the desired functionality? More importantly, are they genomically stable, meaning they can conserve and transfer genetic material from one generation to the next? Lastly, are they pluripotent (i.e., can they differentiate into three main germ layers - ectoderm, endoderm, and mesoderm)? The answers are only obtainable by high-throughput clone screening.
This is where the CloneSelect Imager can add value to your research through additional confidence in monoclonality assurance. The CloneSelect Imager contains label-free brightfield technology with customizable fluorescence imaging, accompanied by advanced data analysis tools, including confluence measurements, growth curves, monoclonality report generation, and plate thumbnails to quickly visualize colony outgrowth in every well.
With the high resolution and variety of imaging modes, you can even detect the cell markers specific to the cells in your clone. This allows you to confirm if your monoclonal cell lines have the desired functionality.
The illustration below demonstrates the differentiation of monoclonal ESCs into three distinct germ layers, bearing the respective biomarkers in each layer.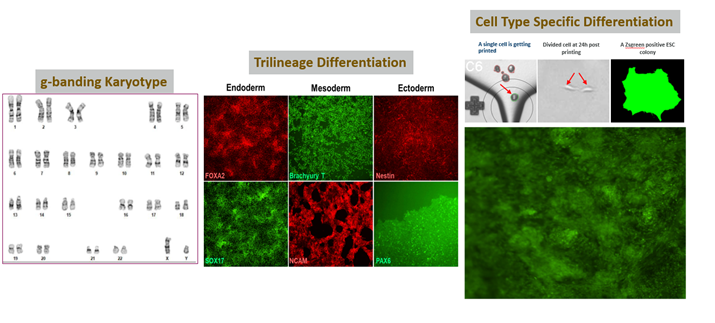 High-quality/stable cells using our single cell printer, making it easy to differentiate into three germ layers: endoderm, mesoderm, and ectoderm.
The CloneSelect Single-Cell Printer is an effective tool for single-cell isolation of iPSCs and ESCs. A combination of the CloneSelect Imager and the CloneSelect printer offers image-based proof of monoclonality assurance.
– Gargi Roy, Ph.D. Cell Culture & Fermentation Sciences of Bio-Pharmaceutical Development, AstraZeneca
The CloneSelect Imager's scope of functional assessment continues even after you begin the cell differentiation stage. Through fluorescence imaging, you can monitor cells as they differentiate to form different tissue layers.
How can I learn more about monoclonal cell lines?
From the initial plating phase to outgrowth and cell differentiation, monoclonal cell line development is simpler using our CloneSelect workflow for Monoclonal assurance.
You can further explore the AstraZeneca Stem Cell Team's research for more information on the CloneSelect Single-Cell Printer and CloneSelect Imager monoclonality assurance workflow. In the recent Molecular Devices' webinar, Gargi Roy illustrates the challenges and solutions in monoclonality assurance with details from her research that demonstrate how to engineer monoclonal cell lines and evaluate the cells in your colony.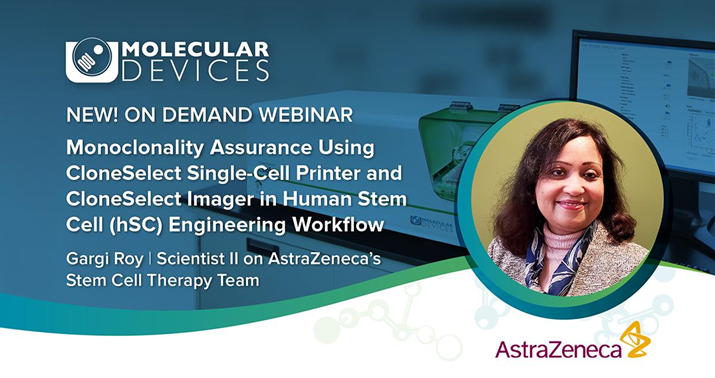 Join the on-demand webinar, Monoclonality Assurance Using CloneSelect Single-Cell Printer and CloneSelect Imager in Human Stem Cell (hSC) Engineering Workflow, with Dr. Roy.
Roy, Gargi, et al. "Sequential screening by ClonePix FL and intracellular staining facilitate isolation of high producer cell lines for monoclonal antibody manufacturing." Journal of immunological methods 451 (2017): 100-110.Roy, Gargi, et al. "Sequential screening by ClonePix FL and intracellular staining facilitate isolation of high producer cell lines for monoclonal antibody manufacturing." Journal of immunological methods 451 (2017): 100-110.
Frank, Richard T et al. "Concise review: stem cells as an emerging platform for antibody therapy of cancer." Stem cells (Dayton, Ohio) vol. 28,11 (2010): 2084-7. doi:10.1002/stem.513.Frank, Richard T et al. "Concise review: stem cells as an emerging platform for antibody therapy of cancer." Stem cells (Dayton, Ohio) vol. 28,11 (2010): 2084-7. doi:10.1002/stem.513.