What is fluorescence?
Fluorescence is the property of some atoms and molecules to absorb light at a particular wavelength (the excitation: Ex) followed by a short-lived emission (Em) of light at a longer wavelength (Figure 2). The distance between the excitation and emission peaks is known as the Stokes shift and is fluorophore dependent (Figure 1).
Fluorescence involves an external light source to excite the sample at a particular wavelength. When excited at the appropriate wavelength, the molecule is transformed from a ground to an excited state. As the molecule returns to the ground state, energy is released in the form of heat (loss of energy) and light at a different longer wavelength of lower energy (Figure 3).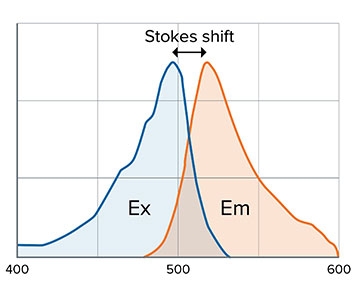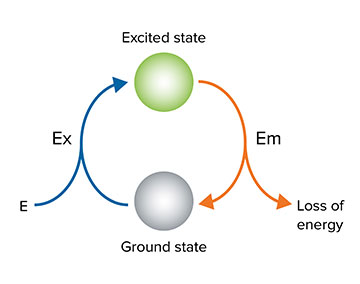 How does fluorescence detection work?
A microplate reader with fluorescence intensity (FI) detection uses a light source, usually a Xenon flash lamp or LED, to excite a fluorophore (fluorescent molecule) at a particular wavelength. The wavelength required to excite the sample can be selected using either a filter of a specific wavelength or a monochromator tuned to the required wavelength.
The fluorophore then emits light of a different wavelength, selected by a second filter or monochromator. This emitted fluorescence is detected by a photomultiplier tube (PMT), and the fluorescence intensity of the sample is expressed as relative fluorescence units.
Fluorescence Overview
Customer Citations
Our SpectraMax Gemini Microplate Reader has more than 10,400 and counting
Fluorescence applications
Fluorometer vs spectrofluorometer vs fluorescence plate reader

There are many terms that refer to instruments used to measure the fluorescence of a sample: fluorometer, spectrofluorometer, fluorescence spectrophotometer, fluorescence spectrometer, fluorimeter, etc. 

In general, they use a light source to excite the sample at a certain wavelength and measure the emitted fluorescence at a second wavelength. The sample may be held in many formats, including cuvettes, capillaries and petri dishes. 'Fluorescence microplate reader' refers to an instrument that can measure the fluorescence of samples in a microplate, most often a 96- or 384-well plate. Microplates offer higher throughput and are useful for screening or other applications where many samples must be analyzed.

What is a dual monochromator spectrofluorometer system?

Some fluorescence microplate readers use dual monochromators instead of filters to select the wavelength of light that excites the sample, as well as the wavelength that is emitted by the sample. Monochromators use a diffraction grating to spatially separate the colors of light and can select a wide range of wavelengths without the need to install a separate filter for each wavelength required by an application.

Our SpectraMax Gemini dual-monochromator spectrofluorometer uses two scanning monochromators for selection of the optimal excitation and emission wavelengths.

Calcium Assays (GPCR)

Cell signaling via G protein-coupled receptors (GPCRs) can be assessed by monitoring the downstream effectors calcium or cyclic AMP (cAMP). Calcium flux in response to Gq protein-coupled receptor activation is commonly monitored in live cells in real time using calcium-sensitive dyes on a fluorescence plate reader.

Here are a few application notes on calcium assays (GPCR) you may find of interest:

cAMP Assays (GPCR)

Monitoring levels of cAMP, a second messenger produced in response to activation of adenylate cyclase, is one of the most common ways to screen for agonists and antagonists of Gi/Gs protein-coupled receptors. cAMP levels can be monitored using fluorescent molecules that bind to cAMP and are detected using a fluorescence plate reader.

Here are a few application notes on cAMP assays (GPCR) you may find of interest:

Caspase-3 Apoptosis Assays

Apoptosis is a highly regulated cellular program that causes cell death in normal processes such as embryonic development, as well as diseases including cancer and neurodegenerative conditions. Assays for apoptosis can be performed using a variety of imaging or microplate reader detection systems and provide valuable information on normal and disease-related mechanisms of cell death.

Learn about a Caspase-3 single-step, homogenous assay that is specifically designed for microplate readers:

Cell Proliferation Assays

Quantitation of cell proliferation using fluorescence allows one to easily monitor the effects of drugs and other experimental treatments on cell growth.

This application note describes two assay methods of a cell prolfieration. In the first, cellular proliferation is quantitated using a cell-based standard curve. In the second, cellular proliferation is quantitated using RNase-treated cell samples and a DNA standard curve.

Cytotoxicity Assays

Development of predictive in vitro assays suitable for safety and efficacy testing is of high interest for improving the drug development process and reducing drug attrition. There has been great interest in using stem cells as tools for screening compounds during early drug development.

In this scientific poster, we present results obtained from one of our multi-mode plate readers for performing toxicity assessment of various compounds using stem cell-derived cell models in a high throughput manner:

EarlyTox Cardiotoxicity Assay

Stem cell-derived human cardiomyocytes have phenotypic characteristics and electrophysiological profiles similar to those of native human cardiac cells. Cardiomyocytes in culture are able to form a beating syncytium, which behaves similarly to native cardiomyocytes. Oscillation of intracellular calcium levels occurring with synchronized contractions of the cells can be monitored using a calcium-sensitive dye, and treatment-induced changes in the pattern of oscillation can be monitored via changes in fluorescent signal over time.

Here is an application note you may find of interest:

EarlyTox Cell Viability Assay Kits

Cell viability assays are critical to a broad spectrum of research areas ranging from investigation into the mechanisms of cell death to the development of new therapeutics targeting apoptosis in diseases. One of the most popular detection technologies for cell viability is a fluorescence microplate reader.

Here are a few applications you may find of interest:

Fluorescent Protein Quantitation

Proteins inside eukaryotic cells exist in a dynamic state, in a highly-regulated balance between synthesis and degradation. Whereas protein synthesis is well-understood after decades of study, major advances in our knowledge of protein degradation have occurred only in the last two decades.

Learn more about fluorescent protein in our application note:

Nanoparticle Analysis

Nanotechnology is a rapidly developing field that has caught the interest of the scientific community due to its potential applications in biomedical research.

Currently there are a limited number of techniques available to characterize nanoparticles and their molecular interactions. Here we describe spectral signature analysis as a method to confirm interactions between nanoparticles and surface coating molecules.

Neuronal Calcium Flux

Monitoring changes in intracellular calcium is an extremely useful technique for investigating the variety of roles that calcium ions play in functioning neurons. Direct measurement of the dynamic calcium flux within neuronal networks reveals how neurons process signals from the extracellular space.

This application note demonstrates the feasibility of measuring intracellular calcium flux in primary rat cortical neurons in a fluorescent microplate format:

Nucleic Acid Quantitation

Quantitation of DNA is a critical step in molecular biology requiring accuracy, reliability, and the use of increasingly smaller sample volumes for applications such as next-generation sequencing. Compared to spectrophotometric DNA quantification, the fluorometric method provides key advantages such as significantly increased sensitivity, high selectivity for double-stranded DNA (dsDNA) over single-stranded DNA (ssDNA) or RNA, and improved contaminant tolerance (protein and carbohydrate molecules).

Here are a few applications notes on nucleic acid quantitation you may find of interest:

Tryptophan detection

The intrinsic fluorescence of proteins is due to the aromatic amino acids tryptophan, tyrosine, and phenylalanine. Tryptophan dominates the emission of proteins and is the most sensitive to solvent polarity and the local environment. Analysis of changes in tryptophan fluorescence can yield information on protein denaturation and conformation.

In these application notes, we demonstrate performance of the SpectraMax® multi-mode microplate readers for assays measuring intrinsic tryptophan fluorescence.
Resources of Fluorescence
How to move from time-consuming processes to efficient workflows with lab automation solutions
DispenCell Solution
Introducing DispenCell Single-Cell Dispenser
DispenCell Cell Sample Prep Tutorial
DispenCell Tip Installation
Monoclonality Assurance using Calcein-AM Viability Dye
Small footprint, high speed, powerful, imaging system for monoclonality verification
SpectraMax Mini