Quality Control and Safety Testing
Streamline beer, wine and food quality control and safety analysis
Food & beverage quality control and safety testing using plate-based analysis
To ensure quality, authenticity, and safety manufacturers of foods and beverages need to perform a wide range of tests on their products. Many of these tests are based around ELISA, which are used to detect the presence of bacterial endotoxins, mycotoxins, various allergens, growth promoter hormones and antibiotics, as well as for meat species identification. Other absorbance tests can also be used to quantify levels of substances within foods – such as sugars, phenols, and acids.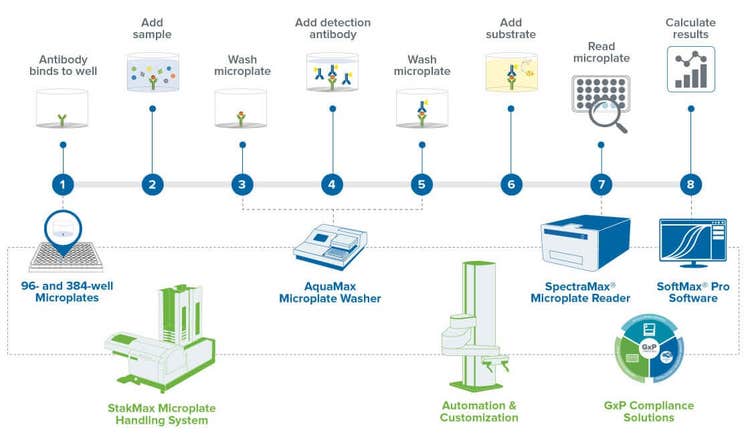 The illustration above shows a workflow for a typical sandwich ELISA assay. While an ELISA is easy to set up, the assay procedure is time-consuming and labor-intensive. Automation for plate-based assay workflows can help with providing walkaway time, increasing throughput, effectiveness and efficiency of the assay procedure, and reproducibility.
Learn more about our research methods
Microplate readers are widely used in research, drug discovery, bioassay validation, quality control, and manufacturing processes in the pharmaceutical, biotech, food and beverage, and academic industries. They provide rapid and sensitive measurements of a variety of analytes across a wide range of concentrations for a wide range of assays including ELISAs, microbial growth, detection of key compounds and contaminants, and protein quantitation.
Here, we highlight various applications using our SpectraMax® microplate readers and SoftMax® Pro software to illustrate how we help save you time and effort while easily generating the data you need for a wide range of food and beverage tests.
Resources for Quality Control and Safety Testing
Related Products and Services