Explore our fully-integrated, automated workflow solutions for cell and biochemical assays
Plate-based assays form the cornerstone of many laboratory research programs. Whether you are performing biochemical assays such as ELISA, DNA/RNA quantitation, MTT cytotoxicity, or binding/affinity or cell-based assays such as CRISPR, viral titer, protein expression, bacterial growth, or cell signaling, Molecular Devices microplate readers have empowered life science researchers to advance discovery and produce high quality, reliable data.
As timelines become compressed and the amount of data required for IND submissions and publications increases, laboratories are increasingly pressed to do more with less. The introduction of automated workcells can help relieve this burden by allowing researchers to optimize their time in the lab and obtain data more efficiently. Additionally, automated data collection and data tracking reduce human error, assuring that the data is of a higher quality.
Scalable, automated plate-based assay workcells
We work with you to build flexible, scalable, future-proof workcells that will meet the needs of your current workflow, as well as give you room to grow and expand in the future. We bring decades worth of consultative expertise to the table to help you design and implement workcells that incorporate industry-leading technology to achieve your goals. However, we recognize that your needs may change and evolve over time, therefore, we will continue to provide robust support and development to make sure your system continues to meet your needs.
Application highlight: High-throughput ELISA workflow
ELISA (Enzyme-linked Immunosorbent Assay) is one of the most popular quantitative methods to detect a target antigen such as toxin or foreign substance within a sample. The assay is easy to set up and the range of potential analytes is vast, but the assay procedure is time consuming and labor intensive.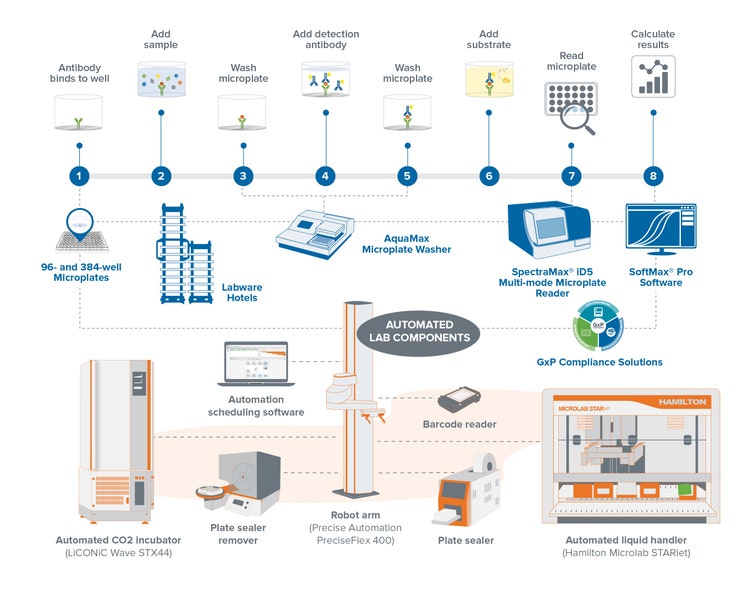 Laboratory automation workflows can help with providing walkaway time, increasing throughput, effectiveness and efficiency of the assay procedure, and reproducibility.
Microlab STARlet Automated Liquid Handler executes dispensing reagent or samples via multichannel head.
Using an automated heat sealer, a sealing film will be placed on the assay plate to prevent evaporation during incubation.
The incubation is done at room temperature in a LiCONiC LPX44, that can store to 44 microplates and while shaking them during the incubation period.
After incubation, the assay plate is transferred to the seal-peeler to remove the seal from the assay plate and transferred to washing.
Aspirating and dispensing of wash buffer can occur simultaneously in all wells via AquaMax® 4000 Microplate Washer with a 96- or 384-well head.
Once the assay runs its course, the final absorbance readout will take place on a SpectraMax® iD5 Multi-Mode Microplate Reader.
SoftMax® Pro Software will automatically generate a standard curve and calculate target antigen concentration in unknown samples.
Latest Resources
Applications of Lab automation for high-throughput plate-based assays
Resources for Lab automation for high-throughput plate-based assays
Related Products & Services