Products

High-Content Imaging

ImageXpress Pico Automated Cell Imaging System
ImageXpress Pico Automated Cell Imaging System
Cellular imaging and analysis system that enables you to go from sample to results in minutes
ImageXpress Pico Automated Cell Imaging System
ImageXpress Pico Imaging System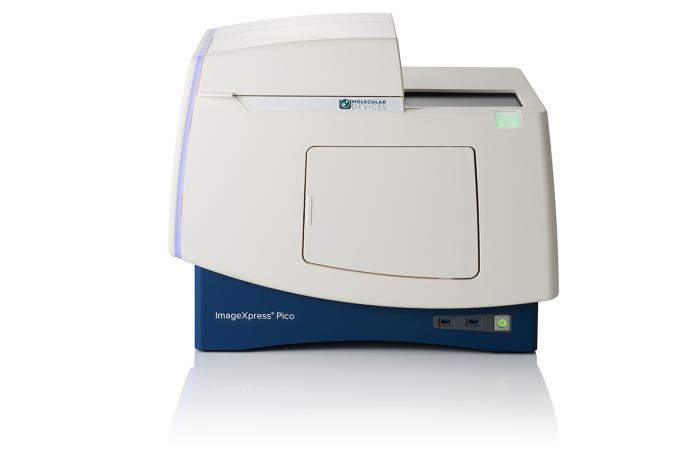 ImageXpress Pico Cell Imaging System
ImageXpress Automated Cell Imaging System
Affordable ImageXpress Pico System
ImageXpress imaging and analysis system
ImageXpress imaging system
ImageXpress Integrated cell imaging system
ImageXpress Pico Cellular imaging system
Pico Imaging System
Pico Cell Imaging System
Affordable Pico Imaging System
Cell Imaging System ImageXpress
Automated Cell Imaging System ImageXpress
Pico Cellular imaging system ImageXpress
ImageXpress Imaging System
Digital microscopy with automated brightfield and fluorescence imaging
The ImageXpress® Pico Automated Cell Imaging System is more than a digital microscope, combining high-resolution imaging with powerful analysis. Whether running fluorescence imaging or brightfield assays, the automated imager features a comprehensive portfolio of preconfigured protocols for cell-based assays to shorten the learning curve, so you can start running experiments quickly.
Get started quickly

Streamline digital microscopy with the icon-driven, user-friendly CellReporterXpress™ software to minimize setup and shorten training time.

Do more than cell counting

Expand your assay capabilities with over 25 preconfigured templates optimized for cell-based experiments including apoptosis, mitochondrial evaluation, 3D cell models, live cell/time lapse, and neurite tracing.

Image economically

Alleviate the hassle of going to the core lab to run your samples. The system's lab-friendly price affords the convenience of automated digital microscopy in every lab.
Multiple imaging modes

The ImageXpress Pico system offers objectives ranging from 4x to 63x and can operate in colorimetric, brightfield, or fluorescence imaging modes.

Preconfigured analysis protocols

Preconfigured analysis protocols ranging from cell counting to sophisticated neurite tracing analysis removes the guess work from optimizing parameters. 

Plate-to-individual cell view

Data can be visualized at multiple levels from plate overview to individual cells. The cell click-to-find tool also makes it easy to automatically locate cells that match specific criteria. 

Z-stack acquisition

Z-stack acquisition enables the generation of sharper images and more accurate segmentation. A series of images acquired at different focal points captures more details than with an individual slice.

Advanced slide-imaging workflow

Time and data storage can be saved by scanning an overview image of a whole slide; then, high resolution scans acquire only selected regions of interest.

Environmental control

Multi-day, time lapse, and live cell assays can be run on the system. The software provides real-time monitoring of environmental state, ensuring optimal assay conditions. Product option includes humidity, CO2, and O2 control.
Brochure

The ImageXpress® Pico system does more than imaging—it offers unparalleled analysis capabilities that simplifies image analysis for cell-based assays.
Scientific Poster

Automate complex cell-based assays with multi-parametric readouts while maintaining high data quality and precision.
Applications of ImageXpress Pico Automated Cell Imaging System
Neurite Outgrowth / Neurite Tracing

Neurons create connections via extensions of their cellular body called processes. This biological phenomenon is referred to as neurite outgrowth. Understanding the signaling mechanisms driving neurite outgrowth provides valuable insight into neurotoxic responses, compound screening, and for interpreting factors influencing neural regeneration. Using the ImageXpress Micro system in combination with MetaXpress Image Analysis Software automated neurite outgrowth imaging and analysis is possible for slide or microplate-based cellular assays.

Apoptosis Analysis

Apoptosis is a process of programmed cell death important to a number of biological processes including embryonic development and normal tissue maintenance. Disruption in the regulation of apoptosis has been implicated in various diseases including cancer. Biochemical events lead to characteristic changes in cell morphology such as cell shrinkage, nuclear fragmentation, chromatin condensation, and mRNA decay, and ultimately cell death. Apoptosis can be initiated via the intrinsic or extrinsic pathways, and both pathways induce cell death by activating caspase enzymes

Cell Counting

Cell counting is fundamental and critical to numerous biological experiments. Assays such as drug compound toxicity, cell proliferation, and inhibition of cell division have a need to assess the number or density of cells in a well. Automated imaging can greatly speed up the cell counting process while reducing manual labor and human errors. Cells can be counted using a variety of methods, such as label-free cell counting under transmitted light or detection of nuclear dye with fluorescent imaging.
Resources of ImageXpress Pico Automated Cell Imaging System
A Product Manager's Tour of the ImageXpress Pico
Configuring environmental control settings on the ImageXpress Pico
How to perform a z-stack image acquisition using CellReporterXpress
Cellular images to results in minutes with automated imaging
Setting up acquisition and analysis on the ImageXpress Pico
Transmitted light cell scoring on the ImageXpress Pico
Reviewing completed experiments on the ImageXpress Pico
ImageXpress Pico Automated Cell Imaging System
Related Products & Services of ImageXpress Pico Automated Cell Imaging System
Customer Breakthrough
SUCCESS STORY
MIMETAS uses the ImageXpress Pico and ImageXpress Micro Confocal systems to develop tissue models for their OrganoPlates®
A unique 3D organ-on-a-chip platform
Ready to get started?
We are ready to help you solve your tough research challenges. Our proven solutions and highly qualified teams across the globe can help advance your next big discovery.
Ready to get started?
We are ready to help you solve your tough research challenges. Our proven solutions and highly qualified teams across the globe can help advance your next big discovery.