Qorium uses the ImageXpress Pico System and SpectraMax iD5 Reader as part of the development of lab-grown leather
COMPANY/UNIVERSITY
Qorium
TEAM MEMBERS
Yonara Cordeiro
Vincenza Caolo
Beatriz Monteiro
Mick Eikelhof
Cas van der Putten
PRODUCTS USED
ImageXpress Pico Automated Cell Imaging System
SpectraMax iD5 Multi-Mode Microplate Reader
The Challenge
The production of cow leather consumes vast quantities of energy and water and contributes to climate change via the emission of methane gas. To reduce the environmental impact of leather production, Qorium, a spin-off from Maastricht University, is working to provide the world with a cell cultured collagen-based biomaterial made in a sustainable, economic, humane and environmentally friendly manner. The goal is to provide a material that is as close as possible to traditional leather, but which uses 99% less water and 66% less energy during its production.
In order to refine their solution, assess the final quality of the lab-grown leather, and offer a commercially viable product, the scientific team at Qorium must perform a wide range of assays quickly, reliably, and with reduced variability between experiments. As part of this, visual assessment of 3D cell and collagen distribution and quality is an important tool, in addition to other assays, in this high throughput endeavor.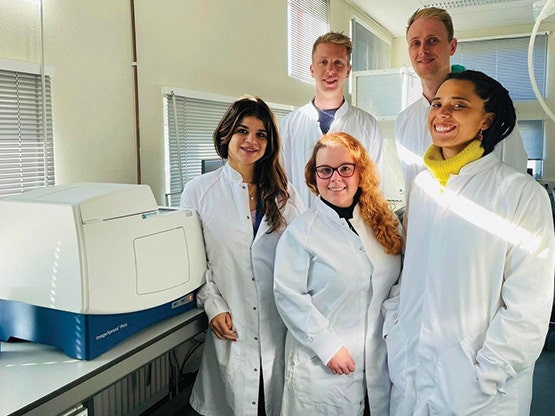 The Solution
The team at Qorium picked an ImageXpress Pico Automated Cell Imaging System and a Spectramax iD5 Multi-Mode Microplate Reader. The plate reader enables the team to rapidly and reliably quantify DNA in their samples following specific treatments, and also to evaluate the collagen content via a colorimetric assay. The ImageXpress Pico allows the team to automate a significant part of their imaging process – enabling them to collect large volumes of data, rapidly analyse them, and improve reliability – whilst also collecting high-quality, high-resolution images.
"With Pico we are able to acquire and process several multi-color images at the same time in an automated manner, speeding up our work dramatically" – Yonara Cordeiro, Junior Scientist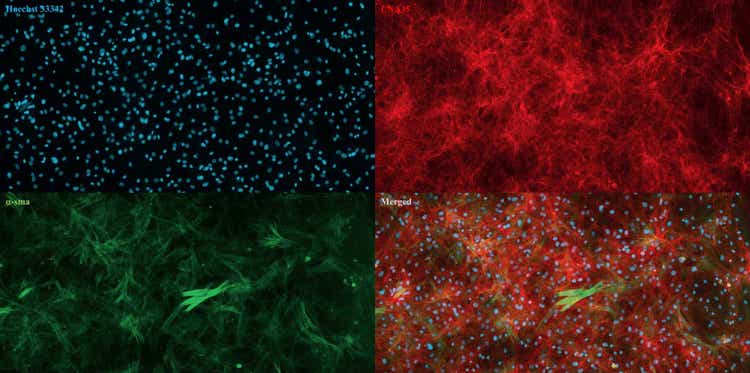 Images acquired using ImageXpress Pico Automated Cell Imaging System of cultured dermal fibroblasts isolated from cow skin. Nuclei (blue), collagen (red), alpha-smooth muscle actin (green).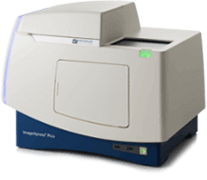 ImageXpress Pico Automated Cell Imaging System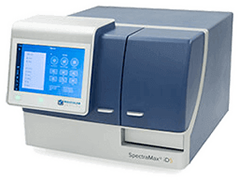 SpectraMax iD3 and iD5 Multi-Mode Microplate Readers
Products Used
ImageXpress Pico Automated Cell Imaging System and SpectraMax iD3 and iD5 Multi-Mode Microplate Readers