University of Geneva uses the FlexStation 3 and SpectraMax readers for assay development and screening
COMPANY/UNIVERSITY
University of Geneva, Readers, Assay Development and Screening Unit, Faculty of Medicine
TEAM MEMBERS
M. Yves Camet, Researcher
PRODUCTS USED
SpectraMax Paradigm Multi-Mode Microplate Reader
FlexStation 3 Multi-Mode Microplate Reader
SpectraMax L Microplate Reader
The Challenge
M. Yves Cambet is a researcher within the Readers, Assay Development & Screening (RE.A.D.S) Unit at the Faculty of Medicine in the Centre Medical Univerisitaire (C.M.U.) of Geneva, Switzerland. The main objectives of the RE.A.D.S Unit are to provide expertise in assay development and screening to all scientists within the faculty. The group support a wide range of assays, from enzymatic target to cell-based assays, in both 96- and 384- well formats.
The Solution
To support this vital work, researchers use a variety of state-of-the-art microplate readers, including: the FlexStation® 3 Multi-Mode Microplate Reader for ion channel assays such as membrane potential or calcium assays, the SpectraMax® L Microplate Reader for all luciferase-based assays, the SpectraMax® Paradigm Multi-Mode Microplate Reader for a wide range of other assays such as ELISA, cytotoxicity, Bradford, cell viability assays, etc.
Two of these readers are equipped with a system of injection which allows scientists to measure several wells simultaneously in kinetic mode. By analysing all their data in the SoftMax® Pro Data Acquisition and Analysis Software, Yves is able to provide support for the calculation of pharmacological parameters such as IC50, Emax, Km, Kd, etc.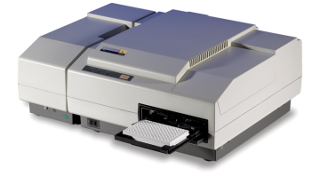 SpectraMax L Microplate Reader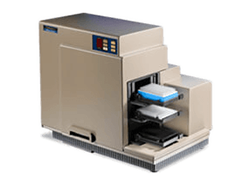 FlexStation 3 Multi-Mode Microplate Reader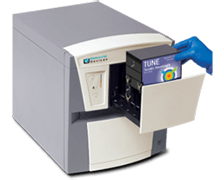 SpectraMax Paradigm Multi-Mode Microplate Reader
Products Used
With advanced dual optical systems operating above and below your microplates, the FlexStation® 3 Reader measures absorbance, fluorescence intensity, fluorescence polarization, luminescence, and time-resolved fluorescence. But that's just the beginning, because this incredible benchtop system integrates multi-mode microplate optics with precision, programmable liquid handling for perfectly timed, automated biochemical and cell-based assays. The FlexStation 3 Reader requires that you give up nothing in assay design, because it adds your assay reagents from a 96- or 384-well source plate.
Pave the pathway to your future with the SpectraMax® L Microplate Luminometer. Measure flash and glow assays, including dual luciferase reporter gene, G protein-coupled receptor (GPCR) via aequorin, bioluminescence resonance energy transfer (BRET), and acridinium ester flash assays, in both 96- and 384-well plates. When you're ready to scale up, the SpectraMax L Reader can give you up to a six-fold increase in throughput with multi-channel configuration upgrade options.
Future-proof your lab with the SpectraMax® Paradigm® Multi-Mode Microplate Reader. Get the system that delivers the data you need today, and when you need more, transform your reader with a detection-mode addition upgrade that takes less than two minutes. The SpectraMax Paradigm reader can do absorbance, fluorescence, time-resolved fluorescence (including HTRF), fluorescence polarization, AlphaScreen®, AlphaLISA®, and luminescence measurements. Detection cartridge modularity allows you to configure the system to meet your current needs, while providing flexibility to address future applications.