Desktop

Mobile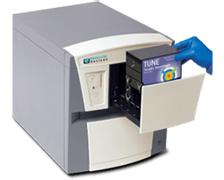 SpectraMax Paradigm Multi-Mode Microplate Reader
High-throughput screening capability on one fast, configurable microplate reader
Z-height and microplate optimization increases assay dynamic range and sensitivity
The SpectraMax® Paradigm® Multi-Mode Microplate Reader measures absorbance, fluorescence, time-resolved fluorescence (including HTRF), fluorescence polarization, AlphaScreen®, AlphaLISA®, and luminescence assays for up to 1536-well plates. Detection cartridge modularity allows for easy addition of new read modes within minutes without requiring a service visit, while providing the flexibility for future applications.

Get automatic Z-height optimization
Z-height focusing is enabled for fast top- and bottom-reads for all read modes. By performing Z-height optimization, a lens is adjusted to address low volumes or varied well geometry.

Eliminate manual gain adjustment
The detection cartridge utilizes an energy intensity optimization technique allowing you to read up to seven logs of sample concentration in a single pass of a plate without manual gain adjustment.

Tailor your data analysis
Perform multiple calculations on one data set, compare multiple experiments side-by-side, and adjust reduction parameters while collecting real-time data with SoftMax® Pro Software.
Features

Configuration changes in minutes
Adding new read modes is fast and simple with the detection cartridge system. Order additional detection cartridges as your application needs change, and install them by yourself in under two minutes.

Increased dynamic range and sensitivity
Use predefined reductions, columns, and summary formulas, or create custom calculations. Analyze EC50 and Z-factors to identify assay quality, and graph results with over 21 curve fit options.
Latest Resources
Featured Applications
Customer Breakthrough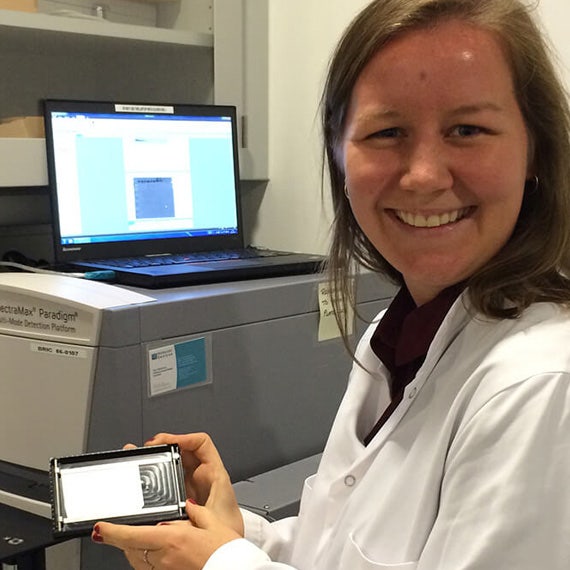 SUCCESS STORY
University of Copenhagen uses the SpectraMax Paradigm reader to investigate cancer metastasis
How can we help advance your next big discovery?
Our highly-qualified teams are on the frontlines with our customers, conducting remote or on-site product demonstrations, webinars, and more to help you solve your tough research challenges. How can we help you today?
I'd like to…
Applications of SpectraMax Paradigm Multi-Mode Microplate Reader
Specifications & Options of SpectraMax Paradigm Multi-Mode Microplate Reader
*Using lowest settings and speed read when available.

Resources of SpectraMax Paradigm Multi-Mode Microplate Reader
SpectraMax® Paradigm Multi-Mode Microplate Reader
SpectraMax Paradigm Multi-Mode Microplate Reader with SoftMax Pro Software
PARADIGM
SpectraMax Absorbance (ABS) Detection Cartridge
0200-7000
SpectraMax Tunable Wavelength (TUNE) Detection Cartridge
0200-7050
SpectraMax Multi-mode (MULTI) Detection Cartridge
0200-7001
SpectraMax Fluorescence Intensity (FI) (coum-fluor) Detection Cartridge
0200-7002
SpectraMax Fluorescence Intensity (FI) (fluor-rhod) Detection Cartridge
0200-7003
SpectraMax Fluorescence Intensity (FI) (Cy3-Cy5) Detection Cartridge
0200-7004
SpectraMax Fluorescence Intensity (FI) (CFP-YFP) Detection Cartridge
0200-7005
SpectraMax Fluorescence Intensity (FI) GeneBLAzer Detection Cartridge
0200-7006
SpectraMax Time Resolved Fluorescence (TRF) Detection Cartridge
0200-7008
SpectraMax Fluorescence Polarization (FP) (fluorescein) Detection Cartridge
0200-7009
SpectraMax Fluorescence Polarization (FP) (rhodamine) Detection Cartridge
0200-7010
SpectraMax Cisbio HTRF Detection Cartridge
0200-7011
SpectraMax Glow Luminescence (LUM) Detection Cartridge
0200-7012
SpectraMax Dual Color Luminescence (LUM) (Chroma-Glo) Detection Cartridge
0200-7013
SpectraMax Glow Luminescence (LUM) (96) Detection Cartridge
0200-7014
SpectraMax Glow Luminescence (LUM) (384) Detection Cartridge
0200-7015
SpectraMax Dual Color Luminescence (LUM) (BRET2TM) Detection Cartridge
0200-7016
SpectraMax AlphaScreen 384 STD Detection Cartridge
0200-7017
SpectraMax AlphaScreen 384 HTS Detection Cartridge
0200-7018
SpectraMax AlphaScreen 1536 HTS Detection Cartridge
0200-7019
Multi-Mode Validation Plate for SpectraMax® Paradigm
& FilterMax™ F3/F5 Systems
0200-7200
Related Products & Services of SpectraMax Paradigm Multi-Mode Microplate Reader