iTeos uses our multi-mode microplate readers to identify therapeutics that target the immune tumor micro-environment
"In our work, we require the highest quality and reproducibility of data. Therefore, we rely on products from Molecular Devices"
Jakub Swiercz
COMPANY/UNIVERSITY
iTeos Therapeutics SA, Belgium
TEAM MEMBERS
Jakub Swiercz, Head, In Vitro Pharmacology & Screening
PRODUCTS USED
SpectraMax i3x Multi-Mode Microplate Reader
SpectraMax Paradigm Multi-Mode Microplate Reader
The Challenge
The mission of iTeos, a spin-off from the Ludwig Institute of Cancer Research (LICR) and de Duve Institute (UCL), is to discover and develop immune therapies to benefit cancer patients.
Immunotherapy is a breakthrough approach in the treatment of cancer that seeks to eliminate tumors through the stimulation of the immune system. The first generation of immunotherapies, including immune checkpoint inhibitors and cancer vaccines, have been limited by the proportion of patients who benefit, and by the depth and duration of response in those that do. Therapeutic benefit has been observed in tumors invaded by T-cells, the so-called inflamed, immunogenic, or "hot" tumors. However, immune approaches for non-inflamed or "cold" tumors remain an important unmet medical need.
iTeos is developing a proprietary pipeline which targets A2A, immune checkpoints and non-inflamed tumors. Jakub Swiercz leads the In Vitro Pharmacology & Screening Group in which scientists are responsible for both the discovery of new targets and routine testing of compounds for existing projects.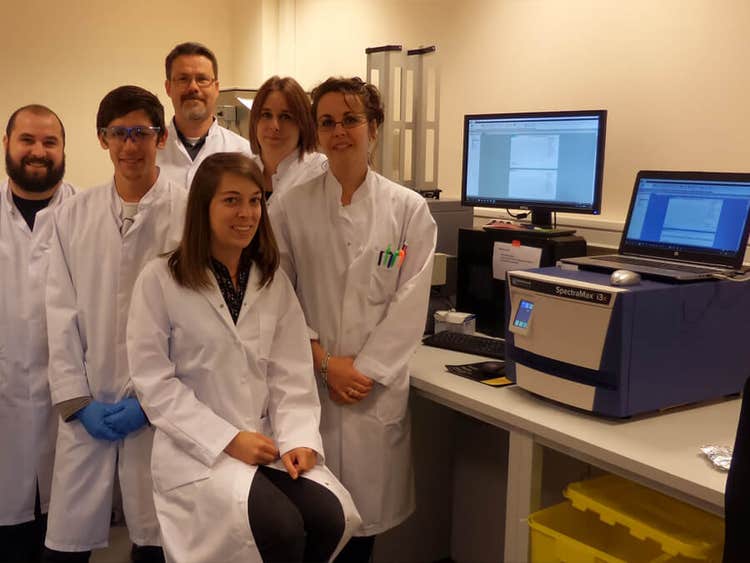 To meet the demands of their research, the group needed a robust microplate reader for everyday use that could perform a variety of biochemical and cellular assays. They also required a dedicated system for high-throughput analysis of their novel therapeutic targets. Both systems needed to be able to deliver data that was of the highest quality and reproducibility.
The Solution
The group use the SpectraMax® i3x and SpectraMax® Paradigm® Multi-Mode Microplate Readers. Both readers are cartridge-based which enables easy configuration for the detection module of choice. A wide variety of cartridges are used for the group's assays, including HTRF, AlphaScreen and the
SpectraMax Injector Cartridge
. The
SpectraMax i3x
provides the robust platform for everyday use while the
SpectraMax Paradigm
is the group's workhorse for high-throughput analysis of novel targets.
10x384 Plates/Day
Approximate number of screens performed per day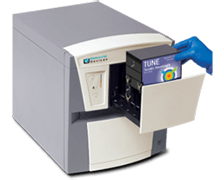 SpectraMax Paradigm Multi-Mode Microplate Reader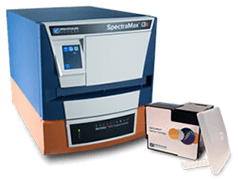 SpectraMax i3x Multi-Mode Microplate Reader
Products Used
The SpectraMax Paradigm Multi-Mode Microplate Reader measures absorbance, fluorescence, time-resolved fluorescence (including HTRF), fluorescence polarization, AlphaScreen®, AlphaLISA®, and luminescence assays for up to 1536-well plates. Detection cartridge modularity allows for easy addition of new read modes while providing the flexibility for future applications.
The SpectraMax i3x Multi-Mode Microplate Reader measures absorbance, fluorescence, and luminescence with available upgrades including western blot, cell imaging, and fast kinetics with injectors plus additional detection modes. User-configurable detection modules provide the ability for exploring cellular pathways and protein expression.
The Results
iTeos' competitive edge is in the combination of expertise in drug discovery and translational tumor immunology. They use a unique platform to identify rational combinations of immunotherapies and novel targets. This platform relies on the reliability of its instrumentation, including Molecular Devices microplate readers. The data generated using these systems is helping to enable the identification and testing of next generation immuno-oncology therapeutics that will ultimately benefit cancer patients.
More information about iTeos can be found here.
iTeos was founded by a mix of private investors and public money from the Walloon Region of Belgium and the FEDER (European Fund for Economic and Regional Development).
"We love the i3x for its exquisite adaptability to different assays run in the laboratory. There are just a few simple steps necessary to exchange the cartridges and adopt the machine to our daily needs."