Phage display is a technique used to study the interaction of proteins displayed on the surface of a bacteriophage with other molecules such peptides, DNA, and other proteins. Phage display is commonly used to find high affinity interactions between antibodies and antigens, which play a critical role in viral pathogenesis, vaccines, and other treatments.
Watch the video with Rebecca Kreipke, Field Applications Scientist, as she walks you through our solution to accelerate your phage display workflow.
Automated solutions to increase workflow efficiency of your phage display
The phage display workflow is a robust, easy to perform, and inexpensive method by which to identify specific high-affinity antigen binders from large combinatorial libraries containing up to billions of potentially clinically relevant antibodies. This makes it especially suited to benefit from the addition of automated solutions, which will allow you to decrease the manual effort required to identify your most promising antibody targets and fast track discovery.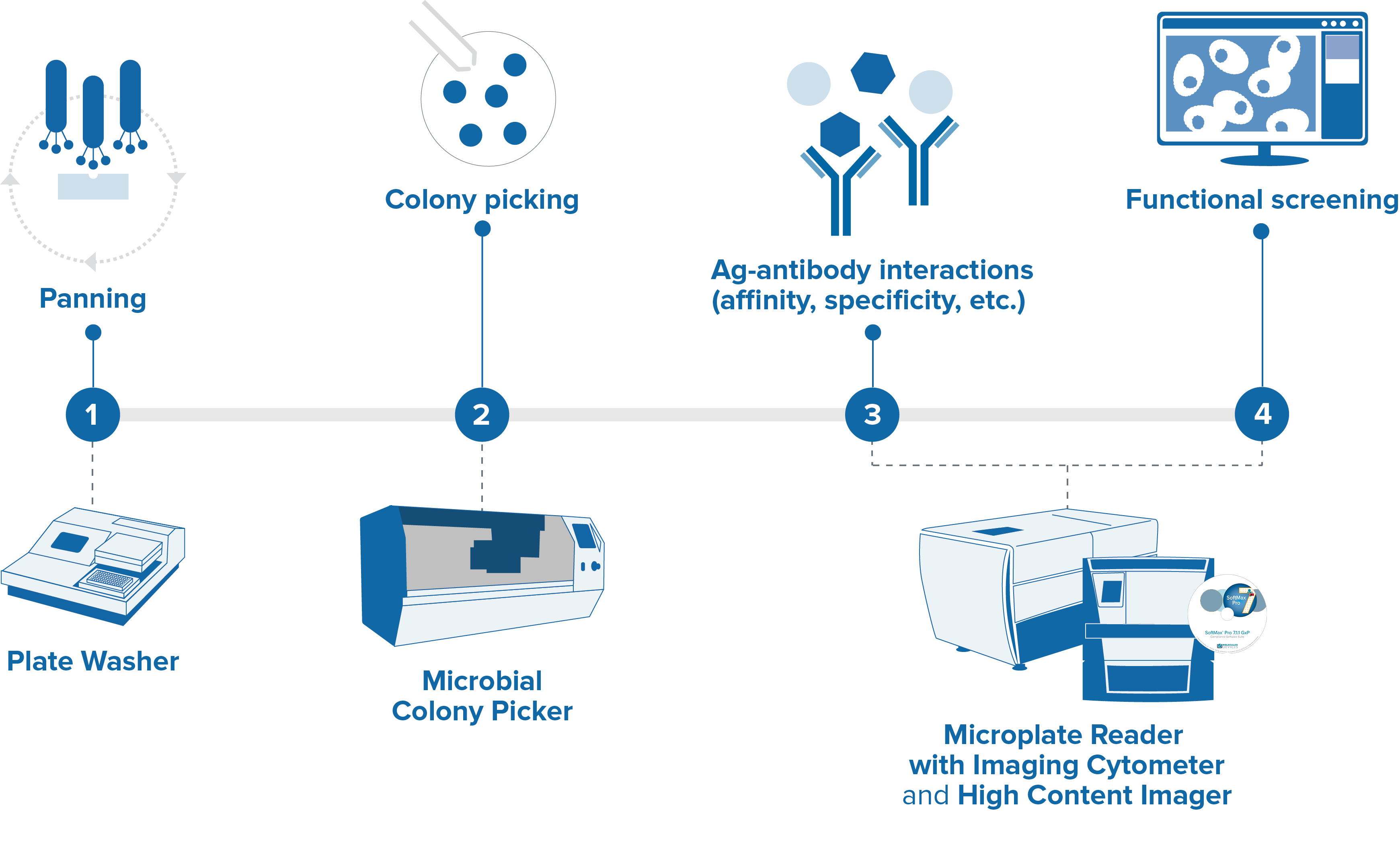 Phage display steps
Step 1: Panning
Panning is an iterative process for enriching phage within a population that possess high affinity binding to a target of interest compared to others. Begin by enriching your population of phage with high-affinity binding by exposing the library to your antigen of choice and then eluting and amplifying only those with the highest binding affinity.
 
Step 2: Colony picking 
Bacteriophage selected from the previous step are then cloned and picked in order to isolate each unique protein binder.
 
Step 3: Ag-antibody interactions 
During panning, phages displaying proteins with higher binding affinity are selected in relation to phages displaying lower affinity proteins. This qualitative selection process requires validation using more quantitative immunoassays to assess antibody-antigen interactions such as ELISA, immunofluorescence, HTRF, complement fixation, agglutination, and/or precipitation.
 
Step 4: Functional screening
Following the characterization of antibody-antigen interactions, candidate molecules are then screened for functional activity (e.g. viral neutralization or vaccine efficacy), often using cell-based assays.
 
Phage display technology for production of antibodies
QPix™ system speeds workflow for screening phage display antibody
Industrial applications from biotech to synthetic biology are using phage display because of its high throughput capabilities for protein interaction determination and protein engineering. However, in order to select high-affinity binders, or ligands, which can recognize a naive target from a phage library (~107 - 1012), non-binding bacteriophages need to be washed away, and phages that bind specifically with target molecules are eluted and harvested through 3–5 rounds of panning. Using conventional methods, this can be laborious to perform when screening multiple selections with different antigens simultaneously. To speed up their screening, scientists are incorporating new technologies like the QPix™systems into their workflow to speed up their phage display antibody screening.
The QPix system is ideal for automating the plating and picking of clones, as well as complete phage library management system.
Picking at a speed of 3000 clones per hour, with over 98% efficiency.
8 hours of unattended run time per day
Screen and pick up to 30,000 colonies a day
Systems to accelerate your COVID-19 research
Get up and running rapidly with proven technologies
Molecular Devices is able to support your research needs by offering technology and solutions rapidly with express processing, shipping and customized finance solutions if needed on microplate readers, biopharma and cellular imaging systems.
Resources related to COVID-19 cellular responses and vaccine development
Here we highlight a few key application notes to support your COVID-19 research. For a complete list of common applications in infectious diseases including cell line development, binding affinity, viral neutralization, viral titer, view our
Coronavirus Vaccine Research
page.