Coronavirus SARS-CoV-2 (COVID-19) Research Solutions
Accelerate your COVID-19 research
Supporting the global research community working on COVID-19
We understand what a challenging time this is for our customers who are working to get accelerated testing and medicines to the market as soon as possible. We are committed to supporting scientists that are researching COVID-19 cellular response and vaccine development. Our technology and solutions include microplate readers, washers, biopharma, and cellular imaging systems to meet your research needs. In addition, we offer tools to help assure validation and compliance in keeping with regulatory guidelines including FDA 21 CFR Part 11.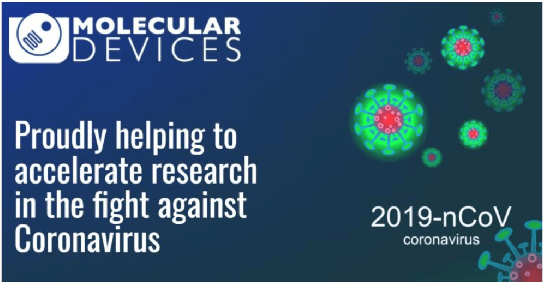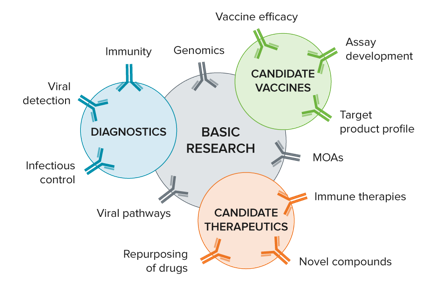 Our customers are developing potential therapies for COVID-19 including:
Vaccines
Recombinant proteins, including monoclonal antibodies
Repurposing of drug molecules already approved, or in clinical trials, for other viruses
Developing diagnostic and research tools using antibodies
Applications related to COVID-19 and critical research
Learn more about how our technology can help support your research of COVID-19 cellular responses and vaccine development. We'll address common applications used in infectious disease research including ELISAs and cell line development to Viral Pathways and offer resources to aid in your research.
Coronavirus vaccine research:
Cell Count/Cell Viability
Cell Line Development
Protein/Antigen Binding Affinity
Protein/Nucleic Acid Quantification (Non-specific)
Protein/Nucleic Acid Quantification (Specific)
Viral Neutralization
Viral Pathogenesis (Viral Pathways)
Viral Titer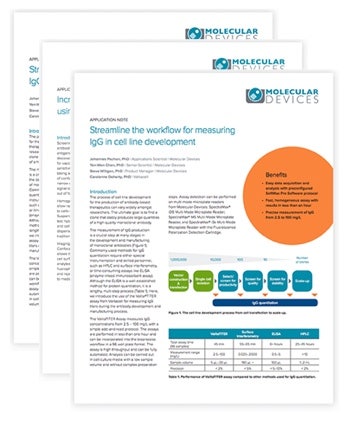 Vaccine development workflow
Vaccine development workflows vary depending upon the platform (e.g. inactivated virus vs. DNA vaccine) chosen, each having its own advantages. In order to increase the likelihood of success against the infectious agent, CEPI, the Coalition for Epidemic Preparedness Innovations, and many other organizations promote diverse approaches during a pandemic.
We've created a variety of virus-related workflows – from antigen/immunogen and antibody discovery to stable cell line development. Below is a general workflow for vaccine development using recombinant proteins as the immunogen, referencing the systems to aid in your research.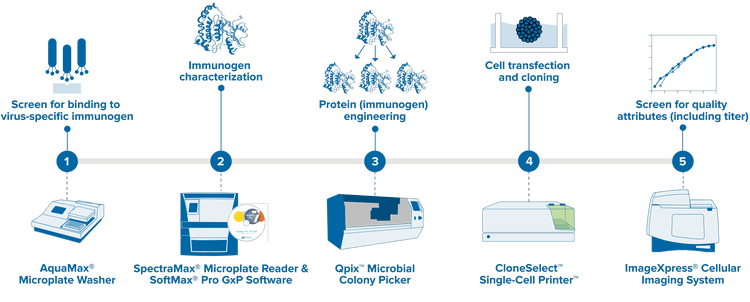 Screen for binding to virus-specific immunogen – Screen virus-specific immunogens through binding using phage display
Immunogen Characterization – Characterize lead immunogen candidates
Protein (immunogen) Engineering – Optimize lead immunogen sequence and structure to enhance anti-viral function
Cell Transfection and Cloning – Introduce lead immunogen sequence into cells for protein expression
Screen for Quality Attributes, including Titer – Screen transfected cells to identify clones with high protein yield and desired quality attributes
Systems to accelerate your COVID-19 research
Get up and running rapidly with proven technologies
Molecular Devices is able to support your research needs by offering technology and solutions rapidly with express processing, shipping and customized finance solutions if needed on microplate readers, biopharma and cellular imaging systems.
Related News & Articles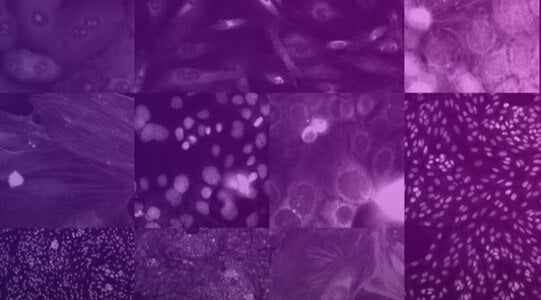 Imaging system from Molecular Devices helps Recursion produce the largest publicly available set of human cellular morphological data for COVID-19 therapeutic research
Technology Networks Spotlight
The Science Explorer interviews Justin Dranschak from Molecular Devices to discuss how we are supporting COVID-19 scientists in their analysis of immunology, candidate vaccines, therapeutics, and diagnostics.
Other great resources
Resources related to COVID-19 cellular responses and vaccine development
Coronavirus SARS-CoV-2 Related Products & Services