What is live cell imaging?
Live cell imaging is the study of cellular structure and function in living cells via microscopy. It enables the visualization and quantitation of dynamic cellular processes in real time. The ability to study cellular and subcellular structure, function, and organization in living systems aids in the development of assays that are more biologically relevant and that can better predict the human response to new drug candidates. Live cell imaging encompasses a broad range of topics and biological applications—whether it is performing long-term kinetic assays or fluorescently labeling live cells.
Benefits of live cell imaging
Live cell imaging is a fundamental research tool in cell biology labs and in a wide variety of industries, and it has led to the discovery of drug targets and candidates as well as the molecular mechanisms involved in diseases. Critical for these researchers, is the ability to develop assays that can best mimic the in vivo nature of cells. Benefits of imaging live cells include:
Monitoring live cells over time provides more than a snapshot of what is occurring in the cells while allowing for the visualization of transient events that may be missed in end-point assays and revealing optimal time-points for end-point assays.
Tight regulation of environmental conditions ensures that the cellular structures and processes being studied are in their native physiological state
Imaging live cells in their natural state minimizes artifacts that can arise from other imaging techniques, such as cell fixation and immunostaining.
The localization and transport of cellular biomolecules along with the progression of multiple pathways  can be investigated simultaneously in real-time.
Acquiring images laterally, axially, and temporally enables the generation of 4D images and data
Live cell imaging of molecular dynamics generates qualitative and quantitative data that can't be gained from other biochemical methods.
Cellular imaging and analysis workflow
Protocols for culturing, plating, and maintaining live cells will vary between different cell models however, the steps below outlines a generalized workflow for live cell imaging assays.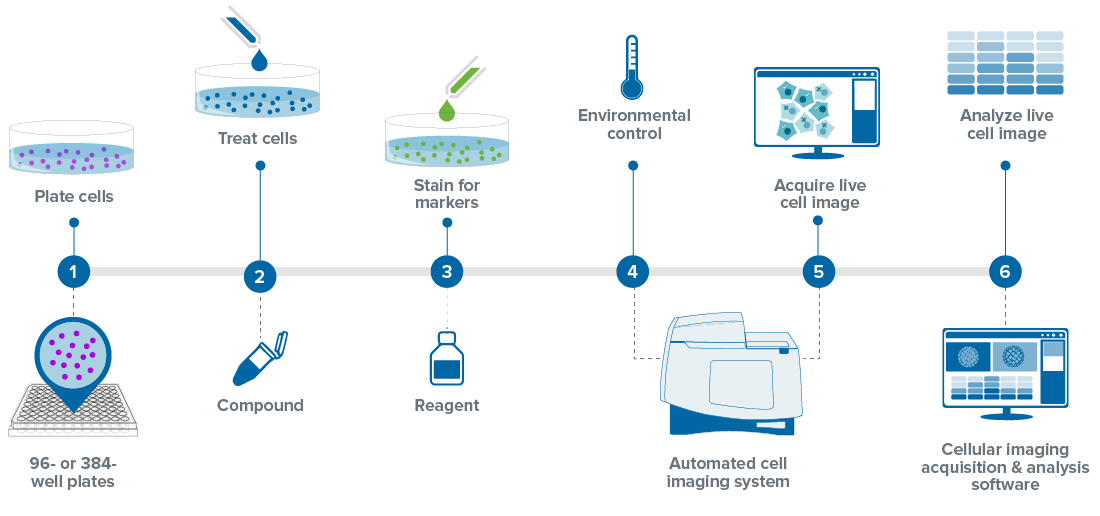 See detailed workflow
Plate cells into labware of choice (chamber slides, dishes, microplates)

Treat cells – Perform cell treatments with desired compounds, RNAi, etc. if part of the assay workflow.

Stain for markers –  If required, label cells with the desired fluorophores (fluorescent dyes, fluorescent protein – peptide fusions, etc.

Environmental controls – If the acquisition will take a long time or if the assay is a live cell time-lapse experiment (continuous or discontinuous), then enable full environmental control including gas, temperature, and humidity.

Acquire cell image – Place the plate into the automated imaging system and start acquiring your live cell images

Analyze cell image – Use cellular imaging analysis software to run quantitative analysis of live cell images
 
Live cell imaging system
Sophisticated live cell imaging instruments provide the ability to regulate environmental conditions to maintain the health and viability of cells while monitoring molecular and cellular dynamics from the single cell to organismal level. From the study of fast-kinetic events to running long-term, time-lapse assays, automated live cell imaging provides the direct observation of dynamic biological processes and the ability to generate a wealth of cellular information
Label-free, brightfield imaging to multi-color fluorescence imaging capabilities provide the flexibility necessary for the multitude of live cell imaging applications
High-acquisition speeds allow for the examination of fast-kinetic events, such as calcium oscillation in cardiomyocytes.
Robust focusing capabilities of automated live cell imaging instruments ensure the maintenance of optimum focus through the entirety of the acquisition, which is crucial for generating accurate live cell imaging data.
Applications and assays
Advancements in automated microscopes with integrated environmental control chambers as well as in fluorescent protein and synthetic fluorophore technology have expanded the capabilities of researchers investigating biological processes in living cells.
Our systems for high-content imaging and analysis provide flexible scalability making it easy to evolve your system alongside your research. They feature options and modules to address your specific research needs including objectives, filters, imaging modes, and environmental control. Here we have a collection of applications and assays that utilize these key features for your live cell imaging research:
3D Live Cell Assays

The integration of three-dimensional (3D) assay models is becoming more widespread to drive translational biology. This has led to significant progress in the development of higher complexity and biologically relevant 3D cell models to better mimic in vivo environments and responses to drug treatments. Recently, simple, automated workflows, suitable for high-content imaging have become popular. Acquiring measurements from these 3D structures involve acquiring images from different depths (z-planes) and analyzing them in 3D or collapsing the images into a single 2D stack before analysis.

Cell Migration Assays

The movement or migration of cells is often measured in vitro to elucidate the mechanisms of various physiological activities such as wound healing or cancer cell metastasis. Cell migration assays may be conducted in a controlled environment using live cell time lapse imaging. A "wound" in a confluent monolayer of cells growing in a microplate is created, either by manually creating a scratch or by utilizing special microplates that provide a uniform and reproducible cell-free zone. Monitor cell proliferation, wound healing, migration, and spreading using transmitted light or live cell-compatible fluorescence. These medium to high throughput assays may be used to compare the migration between cells treated with either inhibitory or stimulatory compounds.

Cytotoxicity Assays

Screening for off-target or toxic effects is very important during the development of new drugs and for the extension of the therapeutic potential of existing molecules. ImageXpress systems are fully integrated hardware and software platforms for automated acquisition and analysis of images for high-throughput cell-based cytotoxicity testing. Configured with optional environmental control, living cell responses or kinetic reactions can be monitored in real time for several days.

eBook: Cellular Imaging Insights

Elucidating complex cellular pathways within 2D and 3D cellular structures in response to chemical stimulation or stress is the goal of many researchers. The capacity to which scientists have access to and can adopt emerging cellular imaging and analysis technology fuels their level of understanding.

Label-Free Live Cell Assays

Label-free imaging and analysis is a requirement for a multitude of live cell biological applications that monitor cell number, confluency, cytotoxicity, development, growth, or proliferation. High contrast brightfield and phase contrast imaging along with robust analysis capabilities provide precise segmentation for the quantification of cells and the assessment of a variety of cellular responses and morphologies.

Perform Functional Assays with Living Cells

It is critical for drug screening programs to gain a global view of the cytotoxic effects of potential drug candidates. In combination with traditional cytotoxicity assays, functional assays provide insight into the effects of drugs and compounds on normal cellular function. Sensitive functional assays like calcium flux assays, which utilize a fluorescent dye to monitor changes in intracellular calcium, aid in understanding the full scope of cytotoxicity. Calcium flux assays have been utilized to investigate the effects of compounds on cardiomyocyte pacing and neuron electrophysiology. Maintaining physiological environmental conditions and being able to perform fast kinetic imaging is ideal for running functional assays.

Subcellular Studies

Live cell imaging permits investigation into a variety of cellular processes involving subcellular compartments and molecules. This includes the monitoring of kinetic processes in real time, such as autophagy, cell signaling, protein trafficking, receptor internalization, endocytosis, and translocation to name a few. Advancements in automated imaging systems as well as in fluorescent protein and synthetic fluorophore technology has expanded the capabilities of researchers to study the dynamic function and structure of organelles and proteins.

Time-Lapse Imaging

Many live cell imaging applications require maintenance of native cellular environmental conditions and the ability to perform time-lapse imaging. This includes the ability to regulate temperature, pH, gas (O2, CO2), and humidity. Being able to maintain these critical components allows for the preservation of cell health during long-term, multi-day assays. The ImageXpress suite of imaging systems provide the seamless integration of environmental control, robust imaging, and powerful analysis enabling the acquisition and visualization of kinetic images and data.
Live Cell Imaging and Analysis Workflow
The described live cell imaging workflow is a generalized example of a continuous long-term time-lapse live cell assay. This workflow breaks down the steps from cell plating to image analysis and highlights the materials and instrumentation necessary to run a live cell assay including an automated high-content imaging system and cellular imaging and analysis software.
Live Cell Imaging & Analysis Workflow
Resources for Live Cell Imaging