Stable Cell Line Generation for Vaccine Production
Streamline your workflow for stable cell line generation
Cell line development is the process of establishing a clonally-derived cell population which, has been genetically engineered to express a desirable phenotype (such as producing large amounts of recombinant protein) for a stable period of time. Single cells proliferate to form colonies that can then be assessed for the desirable characteristic.
In this video, Justin Dranschak, manager for BioPharma platforms, presents our workflow for developing a stable cell line and references the systems to aid in your research.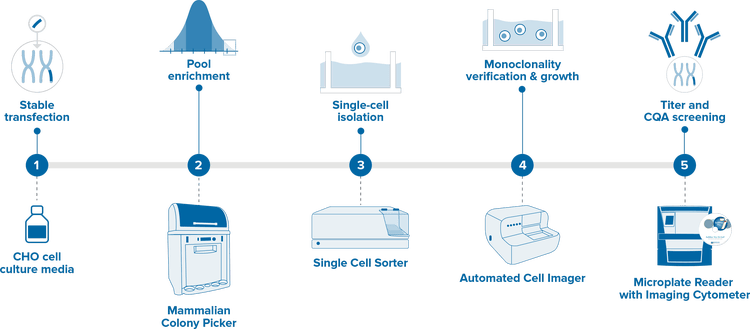 Step 1: Stable transfection
The process of cell line development begins with the introduction of foreign DNA (encoding the recombinant protein of interest) into a host cell, a process known as transfection. Upon transfection, cells begin expressing protein for a transient period of time (usually less than a week) before completely halting production. However, a small subpopulation maintain their ability to express recombinant protein for long periods of time due to integration of the foreign DNA into their genome. They are referred to as stably transfected cells and are selected to move forward in the next step.
Step 2: Pool enrichment
Foreign DNA encoding the protein of interest often includes an additional selectable marker that can be used to separate stably transfected cells from non-transfected cells. For example, green fluorescent protein (GFP) is often added to the foreign DNA so that transfected cells exhibit fluorescence and can be differentiated from non-transfected cells that do not fluoresce. There is a strong correlation between the expression levels of the recombinant protein and the GFP marker included in the foreign DNA, allowing researchers to use GFP fluorescence intensity to identify and enrich their cell pools for high protein expression.
Step 3: Single cell isolation
The process of stable transfection, whether targeted or random, will generate a cell population with heterogenous protein expression. Therefore, single cells must be isolated and cloned in order to ensure that the cell population is genetically identical, significantly reducing the heterogeneity of expression. Single-cell isolation is the process of separating individual living cells from a solid block of tissue or cell suspension for further analysis.
Step 4: Monoclonality verification and cell growth
Single-cell cloning is an extremely critical stage of the cell line development process. It is important to verify that single cells are properly isolated from one another within a microplate, and is often documented using a cell imager. Cells are typically monitored for growth following the cloning stage to ensure that their growth properties have not changed dramatically. This includes the process of tracking the progress of a single cell into a colony of cells.
Step 5: Titer and CQA screening
This is a test that detects the amount of recombinant protein or antibodies produced from the clonally-derived cell line.
Systems to accelerate your COVID-19 research
Get up and running rapidly with proven technologies
Molecular Devices is able to support your research needs by offering technology and solutions rapidly with express processing, shipping and customized finance solutions if needed on microplate readers, biopharma and cellular imaging systems.
COVID-19 related research solutions
Resources related to COVID-19 cellular responses and vaccine development
Systems to accelerate your COVID-19 cellular response and vaccine development
We have validated and compliant laboratory solutions including microplate readers, microplate washers, biopharma and cellular imaging systems to meet your research needs.