Phage Display Workflow
Phage Display is a technique used to study the interaction of proteins displayed on the surface of a bacteriophage with other molecules such peptides, DNA, and other proteins. Phage display is commonly used to find high affinity interactions between antibodies and antigens, which play a critical role in viral pathogenesis, vaccines, and other treatments.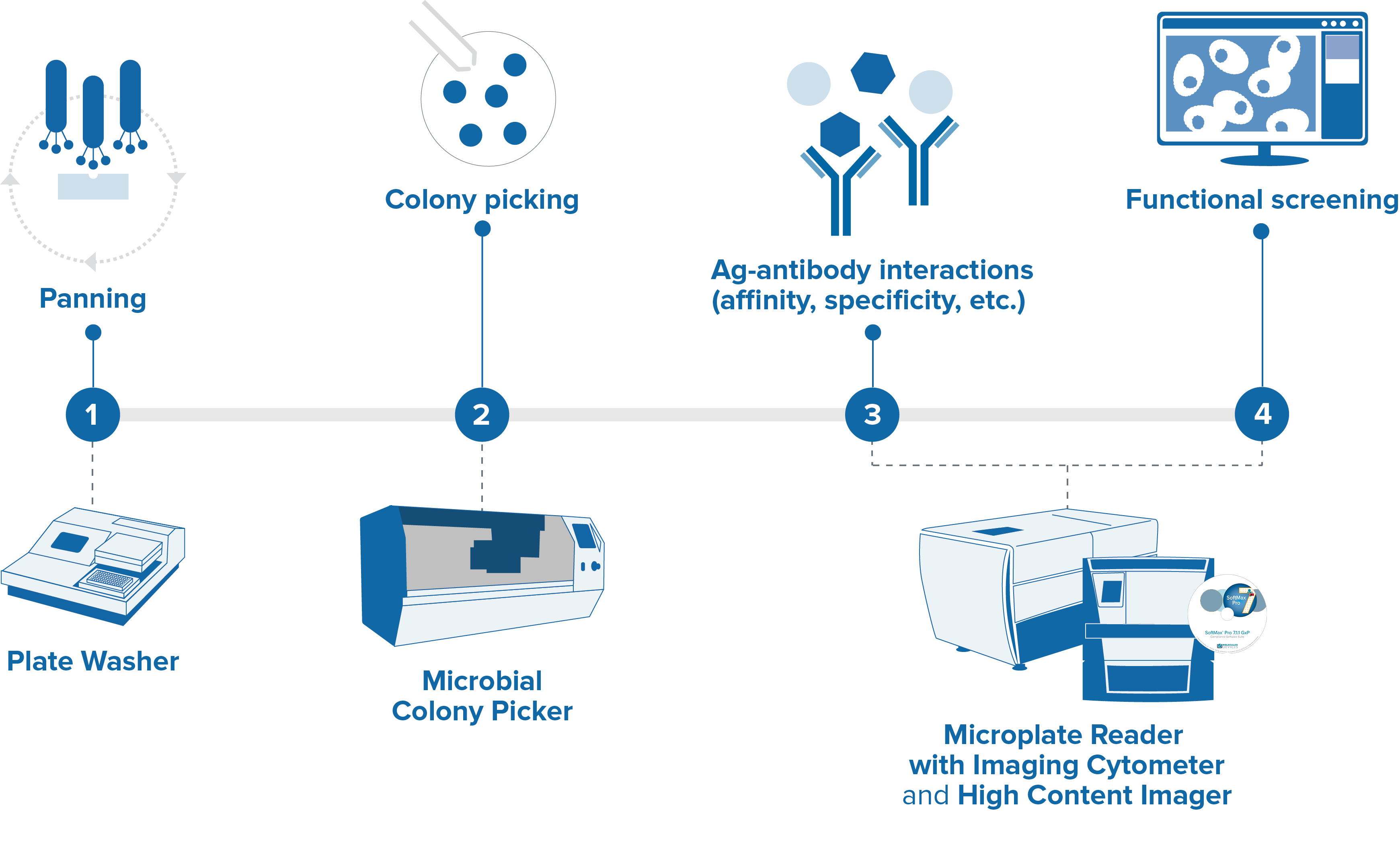 Step 1: Panning
Panning is an iterative process for enriching phage within a population that possess high affinity binding to a target of interest compared to others.

Step 2: Colony picking
Bacteriophage selected from the previous step are then cloned and picked in order to isolate each unique protein binder.

Step 3: Ag-antibody interactions
During panning, phages displaying proteins with higher binding affinity are selected in relation to phages displaying lower affinity proteins. This qualitative selection process requires validation using more quantitative immunoassays to assess antibody-antigen interactions such as ELISA, immunofluorescence, HTRF, complement fixation, agglutination, and/or precipitation.

Step 4: Functional screening
Following the characterization of antibody-antigen interactions, candidate molecules are then screened for functional activity (e.g. viral neutralization or vaccine efficacy), often using cell-based assays.

Systems to accelerate your COVID-19 research
Get up and running rapidly with proven technologies
Molecular Devices is able to support your research needs by offering technology and solutions rapidly with express processing, shipping and customized finance solutions if needed on microplate readers, biopharma and cellular imaging systems.
Resources related to COVID-19 and viral research applications
Learn more about how our technology solutions can help support your research of COVID-19 cellular responses and vaccine development.
Flyer

Phage display was first described in 1985, when George P. Smith demonstrated a way to insert an exogenous gene for a protein of interest into a bacteriophage coat protein gene. This caused t…

Scientific Poster

Review poster to learn about QPIX 400 Series, which allows automation of entire workflow from colony selection to picking, leading to reduced timelines & increasing overall productivity.