Ionic Transport Assays uses the SpectraMax i3 reader to study drug candidate-induced cardiotoxicity in stem cell-derived cardiomyocytes
COMPANY/UNIVERSITY
Ionic Transport Assays
TEAM MEMBERS
John Gibson, PhD, FAHA Yimei Yue, Research Associate
PRODUCTS USED
SpectraMax i3x Multi-Mode Microplate Reader
The Challenge
Ionic Transport Assays Inc. is a contract research organization located in St Louis, MO. Since 2011, Ionic Transport Assays has performed multiple assays for customers on human induced pluripotent
stem cell
cardiomyocytes (hIPSC–CM). This work is directed to meet the challenges of the Safety Pharmacology Comprehensive in vitro Proarrhythmia Assessment (CiPA) proposed by the FDA for new drug development.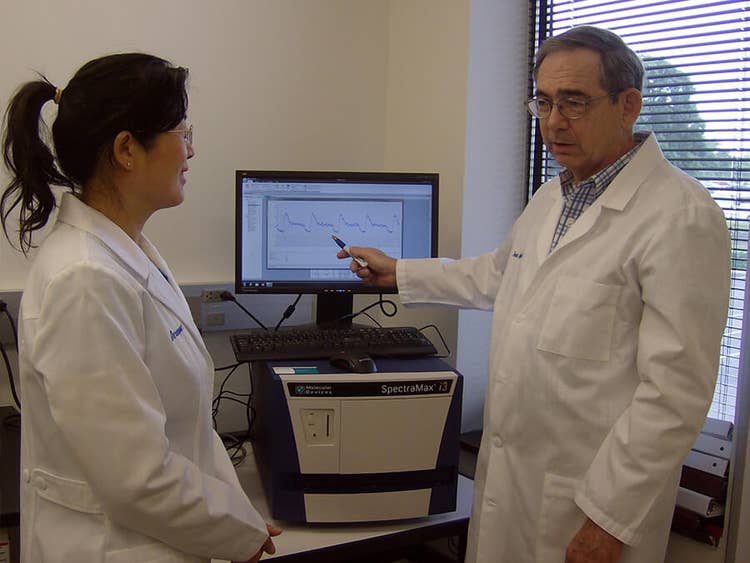 The Solution
Ionic Transport Assays uses the SpectraMax® i3 Multi-Mode Microplate Reader to measure intracellular calcium fluoresence as a marker of cardiac contraction, electrophysiology and toxicity in hIPSC cardiomyocytes. This high throughput pre-clinical testing uses relevant human tissue to identify compounds with cardiac issues early in the drug development pipeline, saving customers' time and money.
Products Used
The SpectraMax i3x Multi-Mode microplate reader measures spectral-based Absorbance, Fluorescence, and Luminescence with the added functionality of modular upgrades for Western Blot, Imaging, and Fast Kinetics with Injectors. The SpectraMax i3x reader allows you to unravel the mysteries of science by exploring cellular pathways and protein activation and expression in one system.