Hybridoma Workflow for Antibody Discovery
Hybridoma generation and screening of large antibody libraries
Hybridoma technology is a method for mass-producing antibodies in a hybrid cell line generated from the fusion of antibody-producing B-cells with an immortalized myeloma cell line, now called a hybridoma cell. Because every B-cell produces a unique antibody, single-cell cloning of hybridomas can be used to generate a diverse library of unique monoclonal antibodies at a large scale, which are very frequently used in the prevention, diagnosis, and treatment of disease.
In this video, Justin Dranschak, manager for BioPharma platforms, presents our solution for a hybridoma workflow and references the systems to aid in your research.
Hybridoma workflow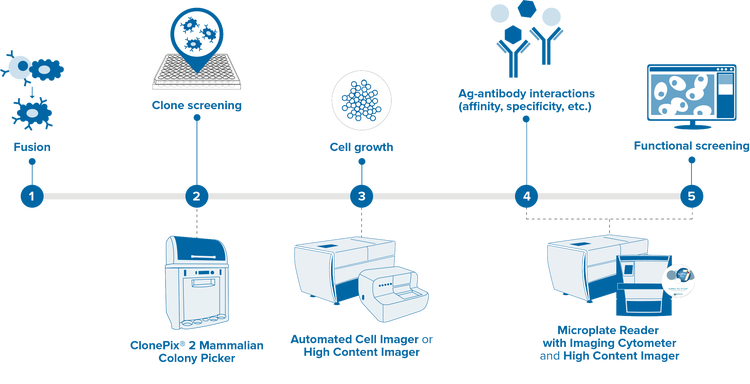 Step 1: Fusion
The process of fusing B cells, expressing unique antibodies, with myeloma cells creating a hybrid cell line is called a hybridoma.
Step 2: Clone screening
The identification of clonally-derived hybridoma cell lines which are producing high amounts of monoclonal antibodies.
Step 3: Cell growth
Cell growth is determined by monitoring cell divisions over a given period of time using label-free imaging.
Step 4: Specificity and cross reactivity
The process of analyzing the ability of an antibody to bind to only one target antigen.
Step 5: Binding affinity and internalization
Binding affinity is the strength of the binding interaction between a single biomolecule (e.g. protein or DNA) to its ligand/binding partner (e.g. drug or inhibitor). Internalization is the process of monitoring the ability of a given particle to enter into the cell.
Systems to accelerate your COVID-19 research
Get up and running rapidly with proven technologies
Molecular Devices is able to support your research needs by offering technology and solutions rapidly with express processing, shipping and customized finance solutions if needed on microplate readers, biopharma and cellular imaging systems.
COVID-19 related research solutions
Resources related to COVID-19 cellular responses and vaccine development
Systems to accelerate your COVID-19 cellular response and vaccine development
We have validated and compliant laboratory solutions including microplate readers, microplate washers, biopharma and cellular imaging systems to meet your research needs.