Molecular Devices opens newly expanded $1M Research & Development Center near Salzburg, Austria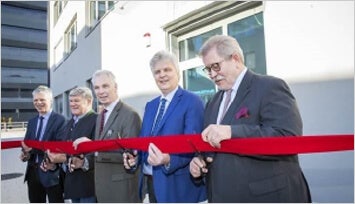 San Jose, California: Molecular Devices, LLC, the company that provides innovative bioanalytical solutions for protein and cell biology in life science research, is excited to announce the $1M expansion and opening of a new Research and Development Center located at Urstein Sued 17, 5412 Puch bei Hallein, Austria.
"For over 40 years, we have been designing and building high quality instrumentation and we are now in a position to expand our capabilities. The site is evidence of a growing biotech community in the Salzburg area, adjacent to the university and other high tech companies, that has seen a resurgence of business due to an influx of talent into the area. The adjacency to the university and the close collaboration will allow for further innovation and growth," said Martin Verhoef, Vice President of Strategy and New Product Generation, Molecular Devices.
Located within walking distance of the Salzburg University of Applied Sciences, the new facility will enhance the collaboration with the community. "Cooperating with Molecular Devices is most welcome because we want to offer our students the possibility to apply theoretical knowledge in practice. In our Study.Work.Support. program, we already offer our students the opportunity to work at selected partner companies under a lucrative ten-hour job agreement (10 hours per week)," said FH-Prof. Gerhard Joechtl, Program Manager, University of Applied Sciences.
First Molecular Devices (Austria) GmbH product development manufacturing facility opened in 2010
New 2,000m² facility houses Research and Development (R&D), administration, and manufacturing
Currently occupied by 50 associates with plans to increase to 80 associates in the next few months
Approximately 500 microplate readers and cell imaging systems (automatic, digital microscopes) will be manufactured at the site for 2020 global distribution
For more information about Molecular Devices, please visit www.moleculardevices.com.
About Molecular Devices, LLC
Molecular Devices is one of the world's leading providers of high-performance bioanalytical measurement systems, software and consumables for life science research, pharmaceutical and biotherapeutic development. Included within a broad product portfolio are platforms for high-throughput screening, genomic and cellular analysis, colony selection and microplate detection. These leading-edge products enable scientists to improve productivity and effectiveness, ultimately accelerating research and the discovery of new therapeutics. Molecular Devices is committed to the continual development of innovative solutions for life science applications. The company has over 1,100 employees and is headquartered in Silicon Valley, California with offices around the globe.
Contact Information:
Celeste Glazer
Molecular Devices
408.747.3611
Celeste.Glazer@Moldev.com
MolecularDevices.com