Molecular Devices launches next-gen monoclonal verification imaging platform for automatic, day zero monoclonality assurance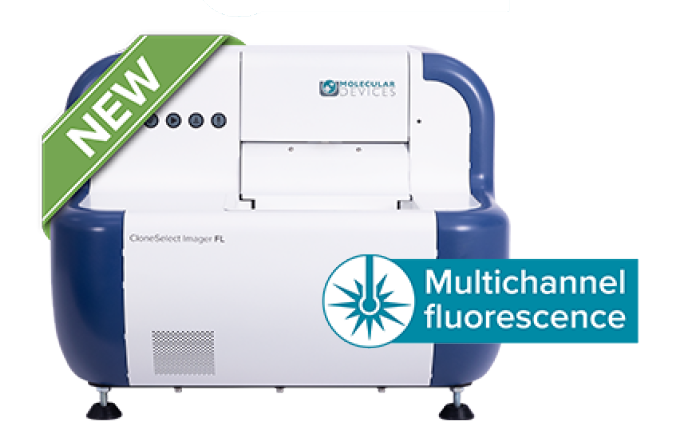 CloneSelect® Imager FL provides a seamless end-to-end workflow for:
High-speed label-free and multi-channel fluorescence full-well image acquisition
Intelligent data analysis
Monoclonality report generation
San Jose, Calif., Jan. 24, 2022 – Molecular Devices, LLC. , a leading provider of high-performance life science solutions, has officially launched its CloneSelect® Imager FL platform (CSI FL). The CSI FL is capable of imaging and reporting on label-free and multiplexed gene-edited single cells with automated monoclonal verification reporting.
"Label-free, gene-edited monoclonal imaging techniques can be a time-consuming and highly-subjective process," said Dan O'Connor, Vice President, Drug Discovery, Molecular Devices. "By using multi-channel fluorescence, the CSI FL provides complete assurance that clonal cell lines for mAb production, drug screening, and cell and gene therapies came from a single gene-edited progenitor. The CSI FL offers high-speed imaging of banked cell lines with CRISPR-confirmed edits, helping to expedite the therapeutic discovery process while providing full audit trail regulatory reporting."
By leveraging Molecular Devices' existing label-free, best-in-class, clone imaging technology, the CSI FL adds the capability of imaging sensitive green and red fluorescent proteins to deliver:
Publication-ready, high-resolution imaging and analysis due to accurate cell detection regardless of cell type and condition, providing automatic confluence analysis and monoclonality assurance
Industry-leading acquisition times for rapid single cell confirmatio n, verifying and tracking monoclonality from day zero
Demonstrated IND success with an automated and customizable Monoclonality Report feature that streamlines creation of supporting documentation for regulatory agencies
"Our customers are as diverse as their scientific research, ranging from cell line development, to 3D biology, to drug screening – yet they're united in a desire to work more efficiently, and with technologies that uncover answers, faster," said Susan Murphy, President of Molecular Devices. "The CSI FL joins a robust product portfolio designed to help organizations move forward in their drug discovery journey with speed, accuracy, and confidence."
To learn more about the automation-compatible CloneSelect Imager FL, visit the product page here.
About Molecular Devices, LLC.
Molecular Devices is one of the world's leading providers of high-performance bioanalytical measurement systems, software and consumables for life science research, pharmaceutical and biotherapeutic development. Included within a broad product portfolio are platforms for high-throughput screening, genomic and cellular analysis, colony selection and microplate detection. These leading-edge products enable scientists to improve productivity and effectiveness, ultimately accelerating research and the discovery of new therapeutics. Molecular Devices is committed to the continual development of innovative solutions for life science applications. The company is headquartered in Silicon Valley, California with offices around the globe. To learn more about Molecular Devices, visit www.moleculardevices.com.