Molecular Devices expands global R&D hub in Austria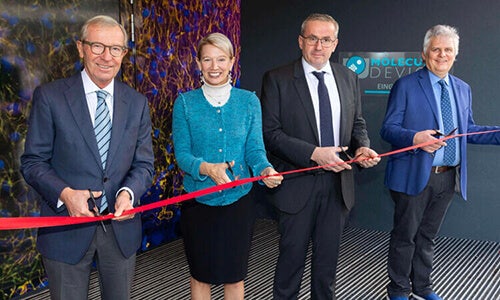 Larger site will be future home of the Organoid Innovation Center – Salzburg, a collaborative space for advancing automated cell line development, organoid development, and screening solutions to improve drug discovery
SAN JOSE, Calif., and SALZBURG, Austria, Oct. 12, 2022 – At a ribbon-cutting ceremony today, Molecular Devices, LLC., a leading provider of high-performance life science solutions, celebrated the completed expansion of its Austrian Research & Development Center. In support of the company's strategy to advance 3D biology, the additional footprint will be used to demonstrate the value of integrated technologies that automate workflows for cell line development, organoid development, and high-content screening, while also serving as an enriching space to foster additional R&D initiatives and industry collaborations.
The event was attended by Dr. Wilfried Haslauer, Governor of the federal state of Salzburg; Dr. Martin Auer, Municipal Councilmember of Puch bei Salzburg; Susan Murphy, President of Molecular Devices, and guests from the life science industry.
"The Organoid Innovation Center – Salzburg will prepare us for the future of science here in Puch, Salzburg, a growing economic and research center utilizing highly modern technologies and innovative collaborations," said Salzburg Region Governor Wilfried Haslauer. "I'd like to thank Molecular Devices and the company's management team for their ongoing engagement investing into the local talents and economy."
The focus of this expansion is providing solutions for better accessibility, reliability, and scalability when working with more biologically-relevant cell models like organoids. Similar to the Organoid Innovation Center located in San Jose, Calif., the Salzburg location will enable life science researchers to experience firsthand how automated, end-to-end workflow solutions can help improve drug discovery and alleviate pain points in their own labs.
"In Salzburg, we'll showcase the cutting-edge technologies, applications, and workflows designed to help life science researchers ultimately move more drug candidates successfully through clinical trials to patients," said Susan Murphy, President of Molecular Devices. "With expanded capacity, we'll continue driving future-proof solutions to advance scientific discovery with easier access to more of our European customers and partners."
The company's Austrian Research & Development Center, home of the Organoid Innovation Center – Salzburg, is located at Wissenspark Urstein @ , a business hub adjacent to the Salzburg University of Applied Sciences.
"With leaders like Molecular Devices located at Wissenspark Urstein – a growing campus of industry innovators – we are supporting next-generation life science research in the region that will have a positive impact globally," said Mayor of Puch bei Hallein Helmut Klose.
About Molecular Devices, LLC.
Molecular Devices is one of the world's leading providers of high-performance bioanalytical measurement systems, software and consumables for life science research, pharmaceutical and biotherapeutic development. Included within a broad product portfolio are platforms for high-throughput screening, genomic and cellular analysis, colony selection and microplate detection. These leading-edge products enable scientists to improve productivity and effectiveness, ultimately accelerating research and the discovery of new therapeutics. Molecular Devices is committed to the continual development of innovative solutions for life science applications. The company is headquartered in Silicon Valley, California with offices around the globe. Visit Molecular Devices at www.moleculardevices.com.