Zymergen uses the QPix colony pickers to make better microbes in industrial fermentation
COMPANY/UNIVERSITY
Zymergen
TEAM MEMBERS
Will Serber, PhD, Automatio Engineer
PRODUCTS USED
QPix 400 Series Microbial Colony Pickers
The Challenge
Zymergen is a technology company using high throughput biology to drive the next industrial revolution. Their method of designing, building, and testing microbes relies on advanced molecular biology tools, robotic automation, and proprietary computational and analytic methods.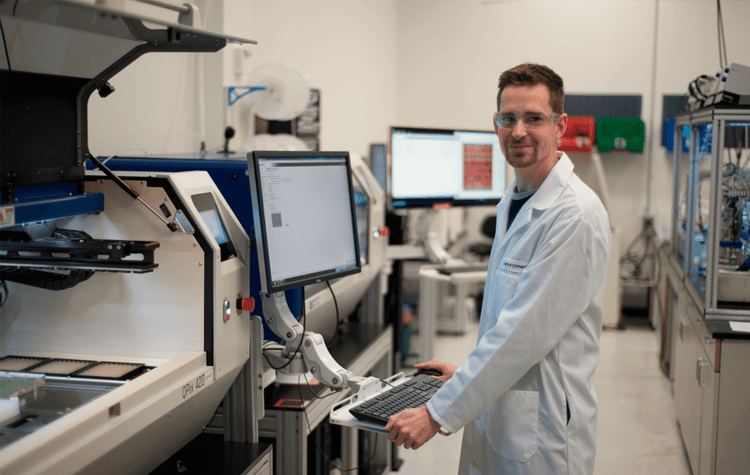 The Solution
This capability allows Zymergen to generate novel chemicals, advanced materials, and pharmaceuticals much faster and at lower cost than current approaches. Zymergen's growing fleet of Molecular Devices QPix™ 420 Systems allows them to identify and pick large numbers of colonies quickly, accurately, and reliably. The QPix units are a critical link in their microbe engineering pipeline, integrating seamlessly with their state-of-the-art laboratory information management system (LIMS).
Products Used
The QPix™ 400 series of microbial colony pickers offer you the unique option to simultaneously detect colonies and quantify fluorescent markers in a pre-screening step before picking. Our QPix systems are used worldwide in over 600 installations in research institutes, sequencing facilities, biotech and pharmaceutical companies. QPix robotics developed a famous reputation for reliability and accuracy in sequencing centers during the Human Genome project.
More than just colony pickers, these systems enable scientists to:
Automate workflows from sampling and spreading to picking.
Pick the right colonies every time
Efficiently manage large, diverse populations for: protein expression, biofuel research, enzyme evolution, phage display, DNA sequencing, library generation and management.