Inscripta enables scientists to perform digital genome editing…
COMPANY/UNIVERSITY
Inscripta, Inc.
TEAM MEMBERS
Eric Abbate, Staff Scientist – Applications Development
PRODUCTS USED
QPix 400 Series Microbial Colony Pickers
The Challenge
Inscripta's vision is to democratize scalable genome editing to the world by offering a holistic platform consisting of software, instrument, reagents, & consumables to enable forward engineering solutions that are faster, easier, & more cost-effective for their customers. The output of the Inscripta Onyx genome editing platform is a pool of cells containing up to 10,000 unique edits that necessitate picking large numbers of colonies (e.g. 1,000 – 10,000) into high throughput microtiter plate-based screening workflows.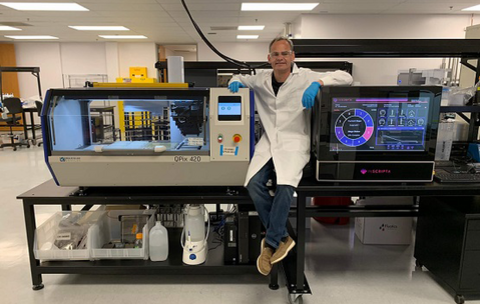 The Solution
The QPix and Onyx platforms are synergistic tools that allow customers to effectively generate and screen phenotypic diversity to enable successful bioeconomy solutions for the next generation synthetic biology companies.
Products Used
The QPix™ 400 Series Microbial Colony Pickers combine intelligent image analysis with precise automation for fast and efficient screening of large libraries. Capable of picking up to 3000 colonies per hour, it will streamline your workflow. In addition to microbial screening, the system automates several sample preparation and plate handling processes such as transfer of bacterial liquid culture and plating on agar. With a variety of data tracking and assay tools, the QPix Software streamlines the control and management of complex and iterative processes.
The Results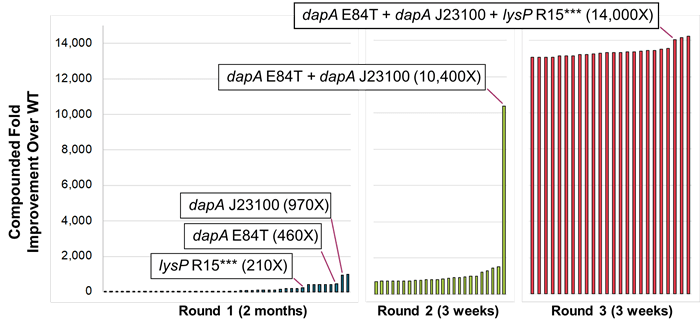 Figure 1: This graph represents the top lysine overproducers that were generated by the Onyx platform and colony picked by the QPix system. Beneficial genomic edits were rapidly combined over 3 rounds of engineering to produce an improved strain with a 14,000-fold improvement in lysine titer relative to wild-type E. coli.