Environmental control and time-lapse imaging
Extended time-lapse acquisitions on living samples while maintaining optimal conditions
Enable live cell imaging and real-time environmental control
Environmental control mimics the cell environment and enables you to run multi-day studies, time-lapse, and live cell assays. With CellReporterXpress® software, the ImageXpress® Pico Automated Cell Imaging System provides visibility for environmental control during acquisition to ensure that the system is running at peak performance during your assay.
Reproduce and maintain environmental conditions

Timecourse for cell proliferation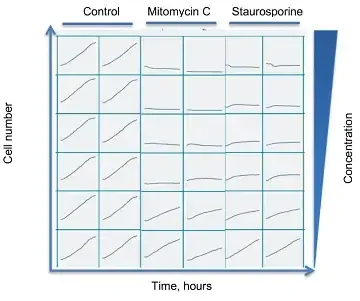 Monitor and measure changes in cell proliferation and cell phenotype over time with reliable time-lapse imaging and on-the-fly image analysis
Key features
Enable live cell imaging and 3D acquisition in an easy-to-use system to better identify phenotypic changes.
Generate sharp images with a greater depth of field.
Minimize evaporation with humidity controls.
Maintain healthy cell growth environment with user-defined CO2 settings.
Store the results of control parametrics with data for review even after the experiment ends.
Study the effects of hypoxic conditions over time
Precise temperature regulation to mitigate thermal Z-drift throughout the entirety of the time-lapse acquisition.
Ensure optimal environmental conditions at the plate level without the need to flood the entire system.

Environmental control settings
Settings can be configured through CellReporterXpress software and monitored during acquisition
Monitor readings in real time
Acquired sensor data is linked to the experiment
Subscribe to alerts to watch multiple sensors and get notifications while working within CellReporterXpress software


Resources of Environmental control and time-lapse imaging
Related Products & Services of Environmental control and time-lapse imaging