Desktop

Mobile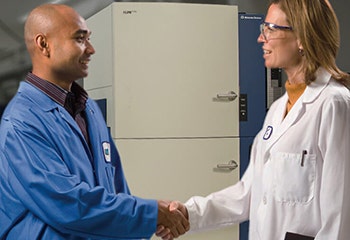 Professional Services
Global service and support performed by factory trained service engineers
Incredible breadth of services from validation to relocation
Our Professional Services provide comprehensive support for your instruments backed by a global network of factory trained engineers. By contacting our Professional Services Team, you'll rest assured that your instrument will receive factory approved parts and operate according to specification. Our portfolio of services includes Fixed Price Services, Time and Material Repairs, Qualification and Validation Services, and As Found Testing Services.

Optimize performance
Annual preventive maintenance ensures that your instruments are running at peak performance and verify that the instrument meets operational specifications.

Fulfill compliance requirements
Ensure your instrument is audit-ready with our instrument qualification services. These services include IQ OQ, Preventive Maintenance OQ, plate recertification, and As Found Testing.

Relocate with ease
Relocation services are available for regulated and non-regulated labs and ensure that instruments are properly packed and safe for transportation. Additional services can include verification of operational performance for regulated labs.
Features

Digital IQ OQ PM
Unique qualification solution preserves the documentation of legacy services in a digital and compliant format that can be accessed remotely and conforms to US and EU Pharmacopeia guidelines.

As Found Testing
Instrument performance evaluation demonstrates the working status, "as is", with no adjustments made to the device.

Plate recertification
Annual recertification of your validation plates provides assurance that they meet specifications. SpectraTest® Validation Plates require specialized knowledge and equipment for recertification.

Factory trained engineers
Our global service engineers follow a stringent Quality Management System certified under ISO 9001. This commitment to quality ensures a consistent and reliable track record.

Factory-approved parts
To ensure your instrument operates according to specifications, we recommend you use factory-approved parts. Our parts are evaluated in conformance with ISO 9001 International Standard.

PhD level scientific team
Our engineers are supported by our Technical Support Team of PhD scientists who understand your research and instrument needs.
Latest Resources
Resources of Professional Services