Desktop

Mobile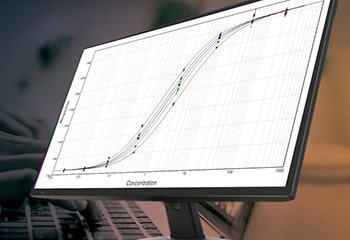 SoftMax Pro GxP Software
Meet regulatory guidelines in GMP/GLP labs with complete validation tools
Become compliant with FDA 21 CFR Part 11 and EudraLex Annex 11 software validation
SoftMax® Pro 7.2 GxP Software is the latest, most secure software to achieve full FDA 21 CFR Part 11 and EudraLex Annex 11 compliance with streamlined workflows to ensure data integrity. Every step is optimized to simplify analysis and reporting to support our microplate readers.
Our expert team will partner with you to set up single- or enterprise-level software, and provide IQ OQ services using our validation package to establish full compliance on your microplate readers. Major data privacy and security improvements support the latest GDPR regulations.
See how SoftMax Pro GxP Compliance Software meets 21 CFR Part 11 and EU GMP Annex 11 requirements.

Track and record all changes
The system audit trail tracks all changes including date and time stamps, username, user ID, section statements, signature information and read results.
Maintain data integrity
The paperless, document status system maintains data integrity with control over eSignatures and document workflows. Project teams can track documents while they are moving through development, review, release, and usage in a controlled environment.
Maintaining data integrity compliance in a regulated GxP environment
GxP compliance software features

Windows Active Directory
User administration in a Windows Active Directory or via the GxP Admin software simplifies defining password criteria, reset and change periods, and reduces the amount of IT support.

Improved auto-save functionality
New documents must be saved before they can be modified and documents are automatically saved before and after a read to prevent the loss of data.

Improved signing process
Users can only sign a single pre- and post-release statement per document contributing to data integrity.

Projects feature
Project teams can be created where users can be assigned to different projects with different roles but can't have different roles in the same project.

Roles and permissions
Permissions are defined on a per role basis and assigned accordingly to users within projects to maintain a structured system. Three predefined roles—Scientist, Lab Manager, Lab Technician—accommodate the document release workflow, allowing first-time users to get started quickly.

Auto-export function
Data can be exported to a location outside the database and various file formats are available to support the import into other applications such as LIMS (Laboratory Information Management System) or SDMS (Scientific Data Management System). XML is supported for data export and auto export.
Latest Resources
How can we help advance your next big discovery?
Our highly-qualified teams are on the frontlines with our customers, conducting remote or on-site product demonstrations, webinars, and more to help you solve your tough research challenges. How can we help you today?
I'd like to…
Specifications & Options of SoftMax Pro GxP Software
Helpful Tips:
To prevent data loss, turn off all sleep and hibernation settings for the hard disk, the CPU, and the USB ports
Disable automatic Windows Updates
Update Windows manually when the instrument isn't being used by the software; these options can be enabled in Windows Control Panel
Note: Installing and using the SoftMax Pro Software on the Windows XP operating system is no longer supported. The software is neither tested nor validated on Windows XP.
Resources of SoftMax Pro GxP Software
Software and installation service
SoftMax® Pro GxP Software: Windows 10 compatible
Latest version of SoftMax Pro 7 GxP Software Suite includes: 3 software installations for each user license, GxP Admin Software, software IO/OQ validation package DVD, user license certificate, compliance certificate
Single computer setup
Multi computer setup
Part number: SMP7X GXP SINGLE COMP *
Part number: SMP7X GXP SERVER *
Part number: SMPGXP-INSTALL1COMP-OS **
Part number: SMPGXP-INSTALLSVR-OS **
Part number: SMPGXP-INSTALLADVSVR-OS (for custom server installation)
Additional user license purchases
Part number: SMP GXP ADD
Part number: SMP GXP SVR ADD
*Requires purchase of a minimum of 3 licenses
**Applies to initial purchase only
Related Products & Services of SoftMax Pro GxP Software