Desktop

Mobile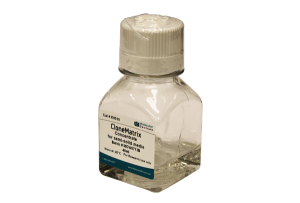 CloneMatrix
CloneMatrix is a 2.5x concentrate that serves as a matrix to produce semi-solid media for hybridoma, myeloma, CHO, HEK, and mESC
Methyltcellulose concentrate for semi-solid media
CloneMatrix™ is an easy-to-use product designed to convert existing mammalian cell biology media to semi-solid form. Semisolid media serves to maintain the positional integrity of growing cell colonies thus allowing the automated identification and picking of clonal cell lines.
The use of semi-solid media combined with the unique fluorescent screening and picking technology of the ClonePix System will revolutionize clonal cell line development in biopharmaceuticals.
CloneMatrix is a unique methylcellulose concentrate which offers the user flexibility to add their own media formulation to produce an optimzed semisolid media reagent.
CloneMatrix is conveniently supplied as 40 mL in a 100 mL bottle, reducing the risk of contamination as there is no requirement to aliquot the concentrate. Supplied as a 2.5x concentrate, simply add optimized media (2x concentration), selection and supplements as required.
CloneMatrix is supplied as an animal-free product, so is suitable for use with serumfree media.
Clonematrix containing media
Latest Resources
Ordering Options of CloneMatrix
Resources of CloneMatrix
Compatible Products & Services of CloneMatrix