CloneDetect
Real-time localized quantification of IgG secretion with CloneDetect to screen and select high value mammalian clones on the ClonePix system, and other cell analyzers with a green fluorescent channel.
A real-time clone screening reagent for clonal cell antibody production in cell line development
Key Features
Real-time in situ detection, no sample preparation or handling required
Cell-culture validated, sterile and azide-free
Regulatory friendly, safe to use on cell substrates
High specificity and affinity for all sub-classes of mouse or human IgGs
Stability in semi-solid culture media over prolonged periods of culture
Simple, unit concentrations for optimize performance on ClonePix Systems
Compatible with other cell analyzer instrument with green fluorescent channels, e.g. CloneSelect® Imager-FL, CloneSelect® Single Cell Printer (SCP), Flow Cytometry (FACs)
New and Improved CloneDetect
Image, analyze, rank and pick secreting clones
CloneDetect is a FITC fluorescein-labeled goat polyclonal antibody with high affinity and specificity for all subclasses of mouse or human IgG. CloneDetect has been manufactured to ISO9001 Quality Assurance guidelines. All raw materials are from USDA registered farm and clinically certified healthy animals. Final products are subjected to safety assessment and pass sterility, viral and mycoplasma test for easy transition to GMP drug development environment.
For applications required to satisfy highest regulatory demands, Recombinant CloneDetect offers a unique recombinant alternative. Recombinant CloneDetect is a FITC fluorescein labeled recombinant monoclonal antibody molecule (mouse IgG), which are produced by engineered CHO cells. The product has a high specificity and affinity for human IgG Fc region. In addition to subjected to a rigorous regimen of safety assessment of sterility, mycoplasma and a panel of adventitious viral agents, each batch comes with certificate of analysis of endotoxin levels.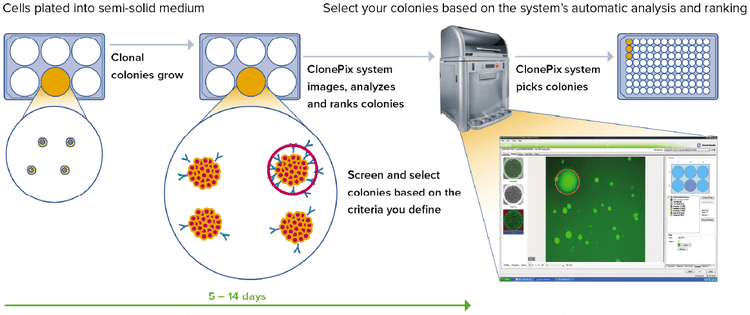 Screen and select mammalian clones secreting mouse or human IgG
Latest Resources
Ordering Options of CloneDetect
Resources of CloneDetect
Compatible Products & Services of CloneDetect