Automate the entire cell culture process to improve workflows and make assays more reliable and reproducible.
The CellXpress.ai™ Automated Cell Culture System is an AI-driven cell culture innovation hub that gives your team total control over demanding cell culture feeding and passaging schedules—eliminating time in the lab while maintaining a 24/7 schedule for growing and scaling multiple stem cell lines, spheroids, or organoids.
This revolutionary solution can give your lab the confidence in experimental outcomes to make key decisions sooner, achieve milestones faster, and get to clinic earlier—with lower attrition rates. All of it backed with the assurance of a full event log to confirm on-time feedings and critical task execution with complete digital microscopy records.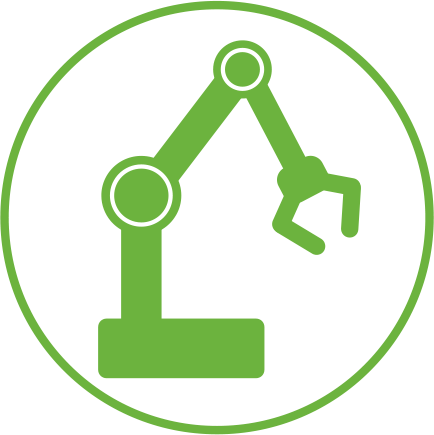 Automate your cell culture processes
Total control over demanding feeding and passaging schedules reduces hands-on time in the lab.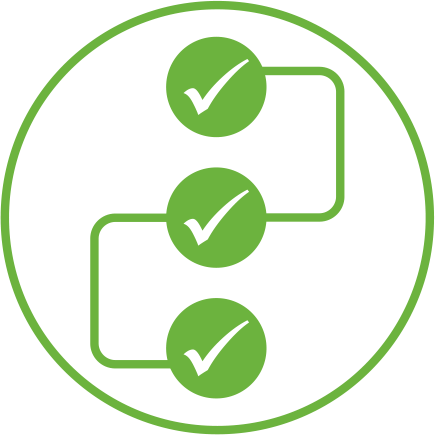 Improve your screening workflows
Around-the-clock operation maximizes productivity for growing and scaling multiple stem cell lines, spheroids, or organoids.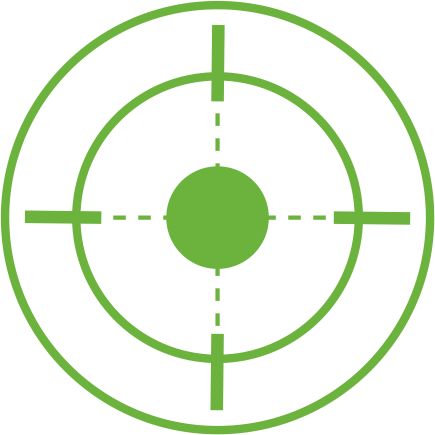 Develop reliable, reproducible assays
A machine learning-assisted solution standardizes the development process to deliver consistent, unbiased, and biologically relevant results at scale.
Features
Scale up complex cell culture workflows.
Actionable imaging and turnkey protocols for reliable media exchange, monitoring, and passaging. Automated cell culture and image analysis workflows run 24/7 – even when your lab is closed.
Track the complete cell journey over time.
A unified software environment makes it easy to develop traceable and reproducible cell cultures specific to your desired assay endpoint.
Evaluate & make decisions earlier.
Answer critical questions sooner easily identifying outliers at the well, plate, or experiment level to help detect variability sources. Save reagents by removing these plates or wells from downstream processing early in the drug discovery process.
Standardized protocols.
Reliable and consistent automation speeds the development process. Real-time feedback alerts users to milestones or events and generates automated tasks to resolve them.
Reduce human error.
Improve productivity and optimize hands-on time with image-based, deep-learning decision-making. Remove variability, maintain sterility, and increase confidence in success with automated cell handling.
Turn data into decisions.
Solve complex image analysis problems utilizing advanced artificial intelligence (AI) to transform images into results. User-friendly workflows help you get answers faster from 2D, 3D, and time lapse experiments.
Complex biology simplified
An approachable, truly hands-off automated solution built by scientists, for scientists.
Built for continuous operation, you never have to worry about missing a feeding or passaging step. CellXpress.ai cell culture system provides workflow repeatability through automation and applies imaging-guided AI decision-making to ensure cell culture feeding and passaging events happen at the right time and event alerts keep you informed of your cell culture status.
Reliable, reproducible results
The CellXpress.ai cell culture system was designed with the biologist's point of view in mind. With the intuitive protocol wizard, users avoid complex scripting. Instead, you are able to build your workflows with an easy-to-use interface that follows the logical flow of the cell culture process.
In addition, the CellXpress cell culture system is intended to support a variety of model system workflows in both 2D and 3D and in both matrix and matrix-free environments. Speak with one of our experts to discuss workflows that represent commonly used organoid culture protocols, including culture of 3D organoids in matrix domes or in the low attachment plates, and iPSC culture protocols.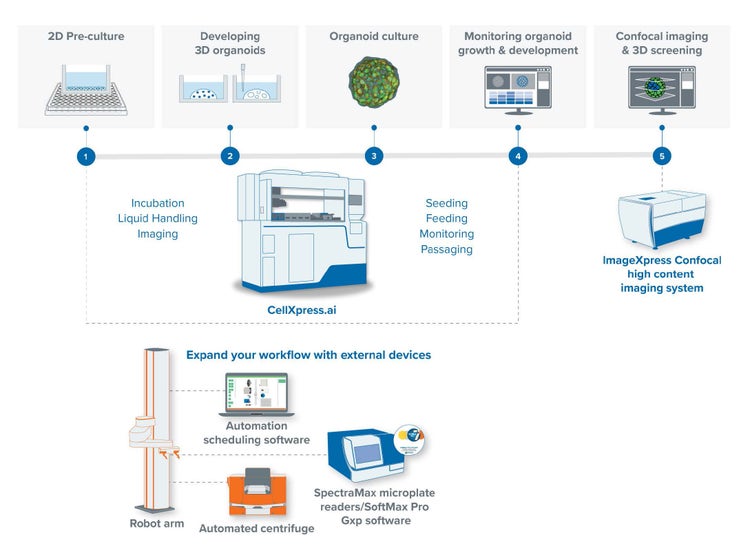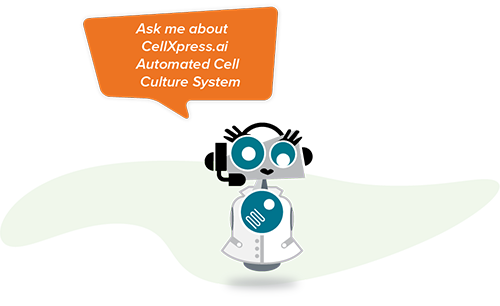 https://main--moleculardevices--hlxsites.hlx.page/quote-request?pid=cellxpress-ai-automated-cell-culture-system
Latest Resources
Applications of CellXpress.ai Automated Cell Culture System
Specifications & Options of CellXpress.ai Automated Cell Culture System
CellXpress.ai cell culture system features and options
Capacity (choose)
44 plate max – 2 rack capacity
154 plate max – 7 rack capacity
Decontamination
Automated hydrogen peroxide decontamination
Environmental control
CO2, temperature, and humidity control
Objectives
2X through 40X objectives available
Imaging modes
TL and up to 6 FL channels
Acquisition mode
Time lapse, Z-stack, optional Digital Confocal*
LED light source
7 LEDs ranging from 365 to 730nm
Available filter cubes
DAPI, FITC, TRITC, TxRed, Cy5, Cy7, CFP, YFP
Environmental control
Temperature and CO2 control
Camera
24 megapixel camera
Acquisition speed
Rapid whole plate acquisition
Deck locations
9 positions: plate cooling, heating, and tilting
Cell culture media
Heated and cooled positions for low-volume and bulk media
Decontamination
Automated on-deck UV decontamination
Liquid waste
10L liquid waste capacity with volume tracking
Solid waste
60L solid waste capacity with automated lid
Transfer ports
2 plate transfer ports
Enclosure
HEPA filtered with anti-clog sensor
On-system display
15" touchscreen display
External workstation
10 Tb workstation with 27" LED monitor
Size
235 cm W x 88 cm D x 215cm H
Weight
1,042 kg / 1,100 kg
Power consumption
2000W max, 2ea 10A lines
Cell culture protocol manager
Pre-defined and user-defined protocols
Experiment manager
At-a-glance experiment manager
Cell journey
Phase-based cell journey with film-strip viewer
Decision making
Rule-based decision making to advance, stop cell culture
System dashboard
At-a-glance dashboard informs the user of immediate or upcoming actions needed
User alerts
Configurable alerts keep the user informed about the state of the cell culture
*CellXpress.ai cell culture system uses AutoQuant 2D Real Time Deconvolution
Resources of CellXpress.ai Automated Cell Culture System
Related Products & Services of CellXpress.ai Automated Cell Culture System