Multiple Steps from Microplate-Reader Workstations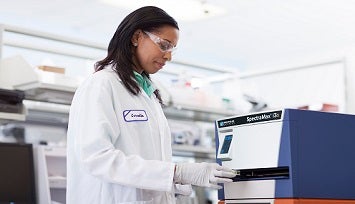 Scientists take many roads to overcoming bottlenecks in workflows. For example, a workstation including a microplate reader can handle multiple steps, which improves efficiency and adds speed. Plus, a microplate reader in a workstation can be used in basic research or industrial processes, such as pharmaceutical research and manufacturing. This article explores how a scientist finds the right microplate-reader workstation for a lab.
Part of the right fit depends on flexibility. At Molecular Devices, senior sales manager Laura Dranschak says, "Customers can come to us for a custom solution, and we collaborate with them to build what they need." As a recent example, the company built an automated molecular-cloning workflow. Such custom solutions can include instruments from Molecular Devices and its partners. Conversely, customers might consider out-of-the-box solutions.