ON-DEMAND WEBINAR
How to move from time-consuming processes to efficient workflows with lab automation solutions
Register to watch the on-demand version now:
Optimize your time in the lab and obtain data more efficiently
In this webinar we will provide:
An overview of automation, and the components involved in automating a workflow
Ready-made work cells for scalable ELISA automation solutions
Examples of customizable automation workflows for plate-based assays
Expand the boundaries of research
For nearly 40 years, we have partnered with scientists to help them achieve landmark discoveries. Our microplate readers and software are the industry's most cited and have empowered life science researchers to advance protein and cell biology.
Explore microplate readers
Our extensive SpectraMax® line of user-friendly microplate readers – the industry's most cited brand – provide great flexibility for labs conducting applications ranging from ELISAs to nucleic acid and protein quantitation and include absorbance, fluorescence, and luminescence. Configurable options include fluorescence polarization (FP), time-resolved fluorescence (TRF), FRET, and AlphaScreen. Upgradeable modules are also available including western blot, cell imaging, and fast kinetics with injectors.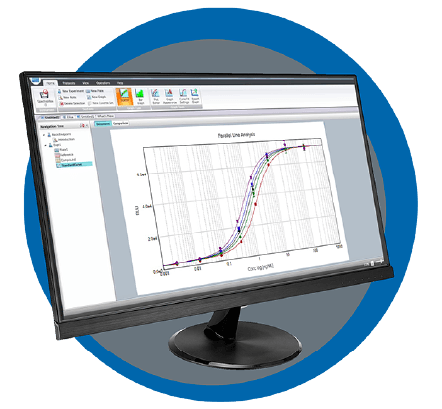 Explore microplate data acquisition and analysis
SoftMax® Pro Software provides the simplicity, flexibility, and power required for advanced data analysis with ready-to-run protocols, analysis algorithms, and 21 different curve fit options. Compliance tools are available for regulated laboratories providing end-to-end chain of custody.