Videos & Webinars
GxP compliance solutions for GMP/GLP labs
What does GxP mean and why is GxP compliance important for GMP/GLP labs?
The term GxP stands for "Good Practice" while the "x" denotes a range of compliance-related activities including Good Manufacturing Practices (GMP) and Good Laboratory Practices (GLP). Laboratories operating under GMP or GLP regulations must follow guidelines set by agencies to protect scientific integrity or demonstrate quality assurance of manufactured products.
GMP and GLP laboratories using microplate readers and washers in their workflows need to establish a compliant laboratory environment—a very time intensive process that requires dedicated resources.
GxP compliance solutions for GMP/GLP labs
Molecular Devices offers a comprehensive suite of proven compliance solutions that can advance your efforts to quickly and confidently become successful on your compliance journey—giving your team more time to focus on research.
Microplate readers and washers
Our microplate readers and washers are highly cited and have been used in advanced protein and cell biology research for over 40 years. They are designed to meet your future assay needs by offering an unlimited breadth of application possibilities including:
DNA/RNA quantification
Protein detection
ELISA
Cell viability
Reporter gene assays
Cytotoxicity assays
AlphaScreen
And more….
For GMP/GLP regulated labs, these readers come equipped with our industry-leading SoftMax® Pro GxP Software, to help you achieve full compliance.
IQ/OQ and PM/OQ
Selecting the right compliance services solution is a significant part of your quality system. We provide services for installation, operational qualification, preventive maintenance, and repair coverage for our microplate readers and washers.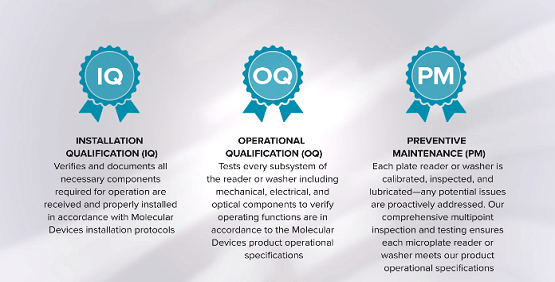 Our IQ/OQ services and PM/OQ service plans preserve instrument documentation in a digital and compliant format. We will partner with you to customize a preventive maintenance schedule suitable for your laboratory needs. Our Field Service Engineers will work to address failed parameters onsite which can save you time, energy, and cost.
Ensure ongoing compliance of your Molecular Devices microplate readers and be audit ready with comprehensive validation, maintenance, and repair documentation.
SoftMax Pro GxP Software
SoftMax® Pro GxP Software is our most secure software to help you achieve full FDA 21 CFR Part 11 compliance. Our workflows are streamlined to ensure data integrity and every step is optimized to simplify analysis and reporting from any Molecular Devices microplate reader.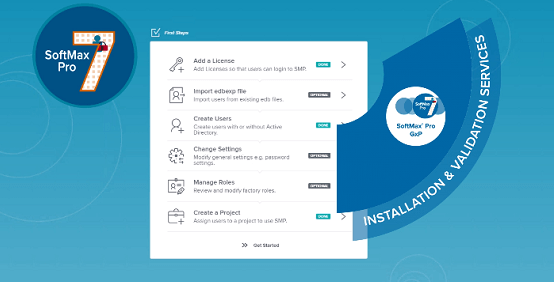 SoftMax Pro GxP Software assures data integrity, compliance, and audit readiness across your organization.
Track and record all changes with the system audit trail
Maintain data integrity with eSignatures and document workflows
Enable enterprise-level document sharing with Microsoft SQL database
Reduce IT support with Windows active directory
Software Installation Services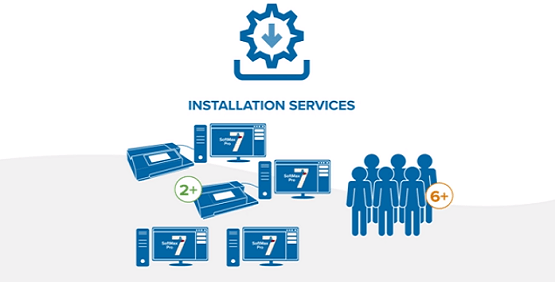 Our software installation services verify that required components are installed to operational specifications. SoftMax Pro GxP Software can be installed on a single computer or on a multi-computer networked environment by our expert technical support or professional services team via remote access.
Software Validation Package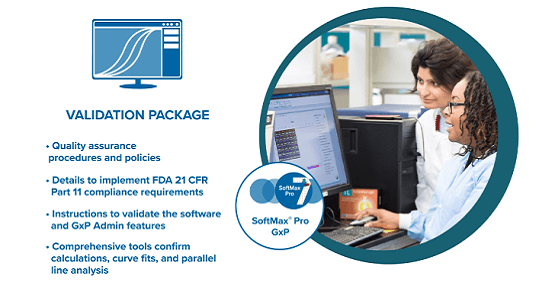 The SoftMax Pro GxP Validation Package provides comprehensive documentation and tools to validate software functionality and data flow.
The package includes:
Quality assurance procedures and policies
Details to implement FDA 21 CFR Part 11 compliance requirements
Instructions to validate the software and GxP Admin features
Comprehensive tools confirm calculations, curve fits, and parallel line analysis
On-site software validation service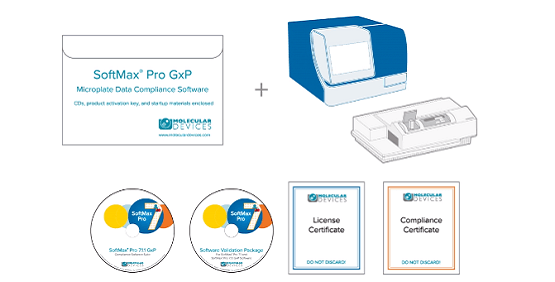 Our on-site SoftMax Pro GxP Software validation service supports FDA 21 CFR Part 11 guidelines and is conducted by our certified Field Service Engineer. Each step in the process is carefully planned and executed. After completion of all tests, the Field Service Engineer will provide you with a complete data package.
Completed and signed SoftMax Pro GxP validation document
Results cover page with electronic signature
Results template with screenshots of each step
IQ report for SoftMax Pro GxP Software
SpectraTest Validation Plates
The SpectraTest® Validation Plates provide automated, comprehensive, and traceable validation of microplate reader performance for absorbance, fluorescence, and luminescence read modes. To maintain confidence in the standards, it is recommended to have validation plates recertified at one-year intervals.
All test measurements and calculations are handled automatically by the SoftMax Pro GxP Software protocols. Should any of the measurement parameters fall outside defined limits, a test failure is reported, and the suspect parameters are identified.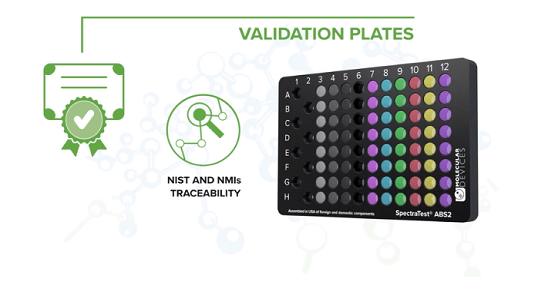 Our validation plates are traceable to the National Institute of Standards and Technology and National Metrology Institutes. These plates are cleaned, calibrated, and recertified according to ISO 17025, and are returned to you with a new certificate of calibration.
Partner with us
Partner with a trusted vendor and streamline your compliance journey in GMP/GLP labs by confidently recording and reporting your secure data while relying on quality service and support before, during, and after compliance events.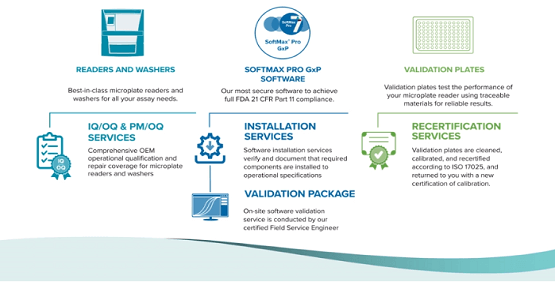 Set up a complimentary consultation to discuss our full compliance solutions. Whether you are in the beginning stages of setting up a compliant environment, improving an existing process, or scaling up, we will partner with you to tailor your workflow for each stage of your compliance journey.