SCIENTIFIC POSTER
Optimizing animal-free CloneDetect assay to maximize the sensitivity of real-time local detection of human IgG antibody production using ClonePix system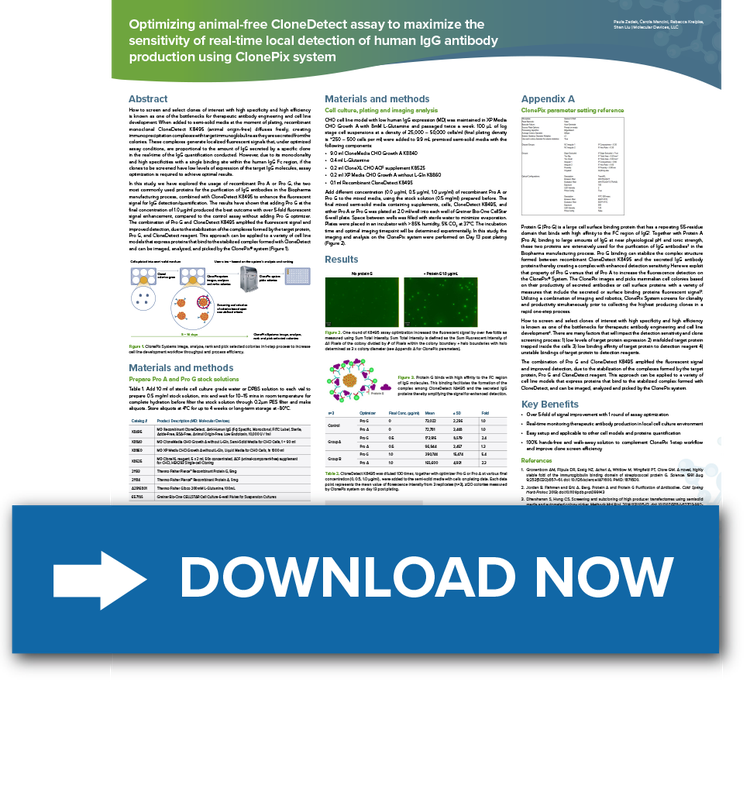 How to screen and select clones of interest with high specificity and high efficiency is known as one of the bottlenecks for therapeutic antibody engineering and cell line development.
In this study, we have explored the usage of recombinant Pro A or Pro G, the two most commonly used proteins for the purification of IgG antibodies in the Biopharma manufacturing process, combined with CloneDetect K8495 to enhance the fluorescent signal for IgG detection/quantification.
Learn more about the systems behind the methods:
ClonePix Series
Automate antibody discovery and cell line development workflows
Screen more clones with the ClonePix® Series in less time with monoclonal verification on day zero, then screen and pick for highest producers in weeks, not months.
Ideal for highly-complex cell-based and 3D assays
Seven-channel high-intensity lasers generating brighter images with higher signal-to-background
Spinning confocal disk technology for deeper tissue penetration, resulting in sharper images with improved resolution
Water immersion objectives offering quadruple the signal at lower exposure times for greater sensitivity and image clarity without sacrificing speed
Optional IN Carta software, leveraging intuitive, modern machine learning
CloneDetect
A real-time clone screening reagent for clonal cell antibody production in cell line development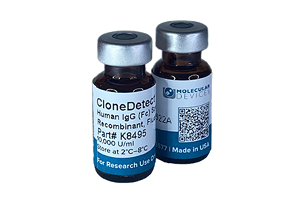 https://main--moleculardevices--hlxsites.hlx.page/products/assay-kits/igg-quantification-assays/clonedetect
Real-time in situ detection, no sample preparation or handling required
Cell-culture validated, sterile and azide-free
Regulatory friendly, safe to use on cell substrates
High specificity and affinity for all sub-classes of mouse or human IgGs
Stability in semi-solid culture media over prolonged periods of culture
Simple, unit concentrations for optimize performance on ClonePix Systems
Compatible with other cell analyzer instrument with green fluorescent channels, e.g. CloneSelect® Imager-FL, CloneSelect® Single Cell Printer (SCP), Flow Cytometry (FACs)
More Great Resources