SCIENTIFIC POSTER
Evaluation of a fluorescent approach to implement monoclonality assurance using calcein-AM viability dye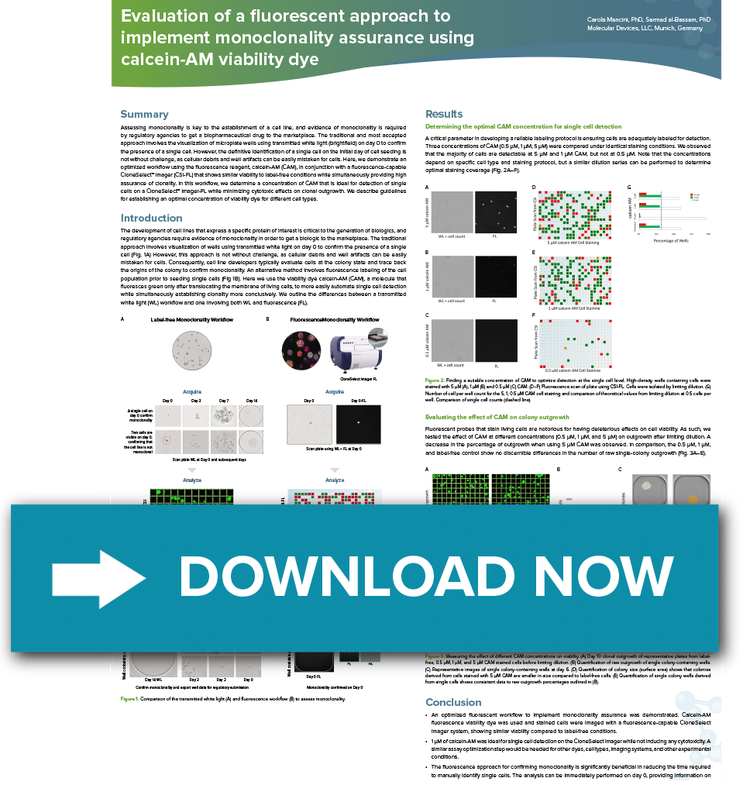 Evaluation of a fluorescent approach to implement monoclonality assurance using calcein-AM viability dye
https://share.vidyard.com/watch/cr8shNeTQEvYpKAUTfZUvv
Assessing monoclonality is key to the establishment of a cell line, and evidence of monoclonality is required by regulatory agencies to get a biopharmaceutical drug to the marketplace.
In this study, we demonstrate an optimized workflow using the fluorescence reagent, calcein-AM (CAM), in conjunction with a fluorescence-capable CloneSelect™ Imager (CSI-FL) that shows similar viability to label-free conditions while simultaneously providing high assurance of clonality.
Evaluation of a fluorescent approach to implement monoclonality assurance using calcein-AM viability dy. It has been sent to your inbox.
If you do not receive an email with the link to the poster, please let us know at marketing@moldev.com and a member of our team will mail it to you directly.