University of California, Berkeley use the GenePix 4300A scanner to study targeted proteomics of single cells
COMPANY/UNIVERSITY
UC Berkeley
TEAM MEMBERS
Amy Herr, PhD, Associate Professor
PRODUCTS USED
GenePix 4300/4400 Microarray Scanner
The Challenge
Amy Herr's research group at the University of California at Berkeley invents quantitative microanalytical tools to address questions in the biosciences and biomedicine.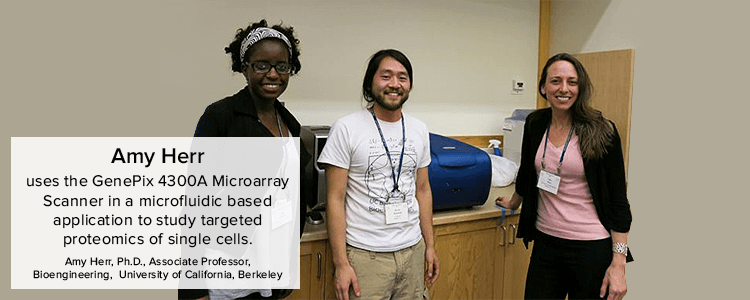 The Solution
Her group uses the GenePix® 4300A Microarray Scanner for their new single-cell western blotting tools.
Products Used
The GenePix® 4300A and GenePix® 4400A Scanners from Molecular Devices offer maximum imaging quality with optimal resolution in highly configurable platforms. Configurations include 5μm or 2.5μm per-pixel maximum scanning resolution, choices of up to four lasers for excitation, and sixteen emission-wavelength filters. These options allow the systems to detect a wide variety of fluorophores. Coupled with GenePix® Pro Microarray Image Analysis Software and Acuity® Microarray Informatics Software, the GenePix Systems provide powerful, flexible, and easy-to-use solutions for the acquisition and analysis of data from all types of arrays, including nucleic acids, proteins, tissues, and cells.