APPLICATION NOTE
Automating Patient-Derived Organoid (PDO) High-Content Assays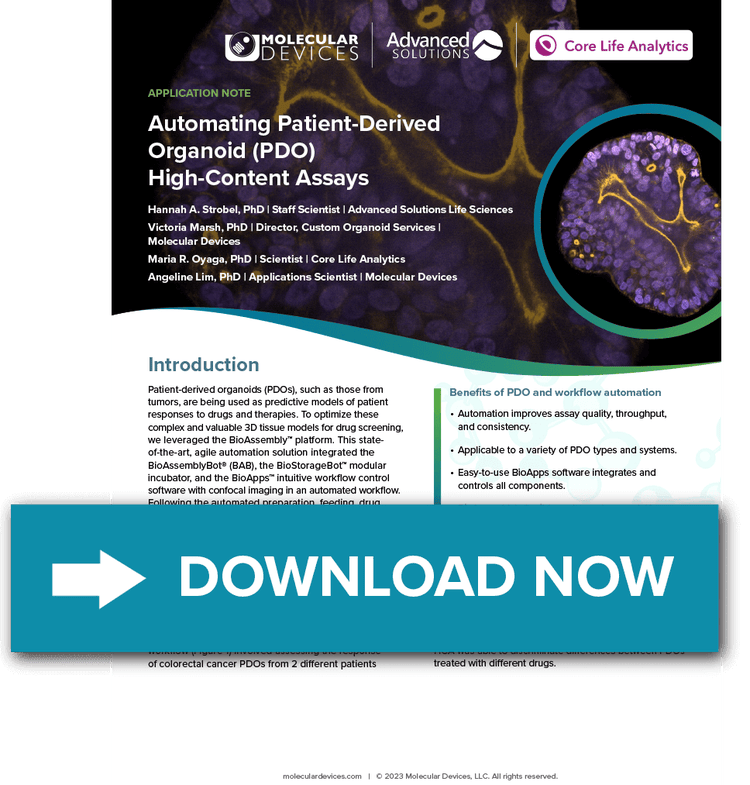 In this study, we performed an automated PDO drug screen involving automated imaging and High Content Analysis (HCA) with the BAB platform.
Patient-derived organoids (PDOs), such as those from tumors, are being used as predictive models of patient responses to drugs and therapies. To optimize these complex and valuable 3D tissue models for drug screening, we leveraged the BioAssembly™ platform. This state-of-the-art, agile automation solution integrated the BioAssemblyBot® (BAB), the BioStorageBot™ modular incubator, and the BioApps™ intuitive workflow control software with confocal imaging in an automated workflow. The patient-derived organoids had been previously expanded using our bioprocess, enabling us to use a large volume of standardised organoids, giving our assay increased statistical power whilst reducing the staff time spent on the organoid expansion process.
Following the automated preparation, feeding, drug treatment, and image acquisitions, image sets were analyzed to generate high-content assessments of PDO responses to the drugs.
Learn more about the systems behind the methods
More Great Resources