Introduction
Jayne Hesley | Imaging Applications Scientist | Molecular Devices
The ability to accurately quantitate cell number in multi-well microplates enables a multitude of biological applications that study cell health or proliferation. These applications may make use of endpoint assays for imaging fluorescently stained nuclei or may demand robust transmitted light imaging of unstained live or fixed cells. In both cases, the enumeration of the cells through software segmentation should be fast and reliable. The ImageXpress® Pico Automated Cell Imaging System with CellReporterXpress™ Image Acquisition and Analysis Software is ideal for quantitating cells whether label-free or fluorescently stained. In this application note, we demonstrate how the user's choice of transmitted light segmentation (analysis) algorithms increase the accuracy of counting diverse cell types and compare the results to those found when using a nuclear stain.
Methods
In the following experiments, several cell types were plated into 96 well plates in 1:2 serial dilutions and grown overnight before being labeled with 5 µM Hoechst or DRAQ5 nuclear stain for 30-60 minutes inside an incubator at 37°C, 5% CO2 . Plates were read on the ImageXpress Pico system with a 4x or 10x Plan Fluor objective, one field of view/well. Fluorescent and transmitted light images were acquired consecutively (transmitted light first) and cells were counted using on-the-fly analysis. On-the-fly analysis allows for simultaneous analysis of an image during acquisition.
Select the best transmitted light module for your cells
Three modules are included in CellReporterXpress software for counting cells in transmitted light. "Transmitted Light Cell Count, General" works well for most monolayer cell culture (CHO, Hela, PC-12) that is neither too confluent nor too sparse. In the experiments reported in Figure 1, however, cells were plated into 96 well plates from fully confluent to only a few cells per well. The corresponding TL modules yielded cell counts that most closely agreed with the quantitation achieved using a nuclear stain over the widest range of cell densities. For cells like HepG2 which grow in clumps, accurate segmentation can be challenging at high densities, so it may be advisable to use the measurement "Area covered" instead of "Cell count" to get more accurate results.
Count adherent or suspension cells
Adherent monolayers or suspended cells could be quantitated using one of the three transmitted light (TL) cell counting analyses protocols based on cell size or the Cell Count module for detecting fluorescently stained nuclei (Figures 2 and 3). A comparison of cells detected using stained nuclei vs. unlabeled cells was consistent across wells that were not overly-confluent (Figure 4).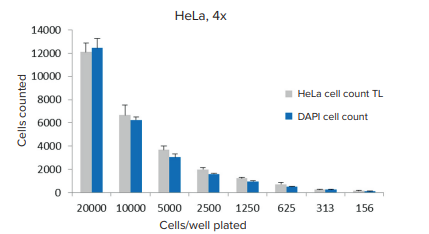 Detect pipetting artifacts using whole plate thumbnail images
The entire plate can be scanned at low magnification in transmitted light (or fluorescence, if stained). Wells that demonstrate nonuniformity in the cell layer can be visually identified or detected on-the-fly using CellReporterXpress software (Figure 5).
Conclusion
The ImageXpress Pico system allows researchers to quantitate a wide variety of live or fixed cells in a logical workflow that supports on-the-fly analysis with the accompanying CellReporterXpress software. Using the low magnification scan method enables an instant quality check of plating uniformity. In addition, observing effects on cell density due to compound treatment or reagent addition add a higher level of validation to experimental results.