APPLICATION NOTE
Structural organization and functional analysis of compound response in 3D human iPSC-derived cardiac tri-culture microtissues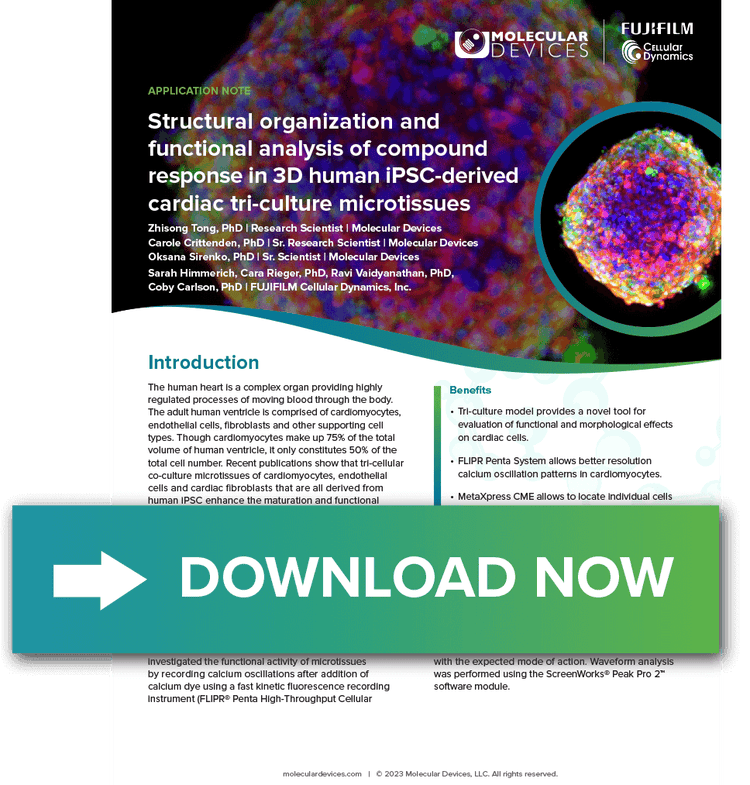 Tri-culture model provides a novel tool for evaluation of functional and morphological effects on cardiac cells.
Recent publications show that tri-cellular co-culture microtissues of cardiomyocytes, endothelial cells and cardiac fibroblasts that are all derived from human iPSC enhance the maturation and functional activity of cells compared to 2D cardiomyocytes and thus more closely mimics actual heart physiology.
In this application note, we highlight the utility and biological relevance of using iPSC-derived cell types in 3D micro-tissues as a promising model for measuring compound effects on human cardiac tissues in a high-throughput format.
Learn more about the systems behind the methods:
FLIPR Penta High-Throughput Cellular Screening System
High-throughput kinetic screening for toxicology and lead compound identification
ImageXpress Micro Confocal system
High-content confocal imaging solution with proprietary spinning disk technology and water objective options
ScreenWorks Software with customizable protocols and data analysis for high-throughput kinetic assays
The FLIPR Penta system utilizes our ScreenWorks Software to define and run experimental protocols. Using a drag-and-drop interface, protocols can be easily set up to include:
MetaXpress software for ImageXpress high-content imaging systems
Multi-level analysis tools for a wide range of applications
More Great Resources