APPLICATION NOTE
Rapidly assess drug response in breast cancer models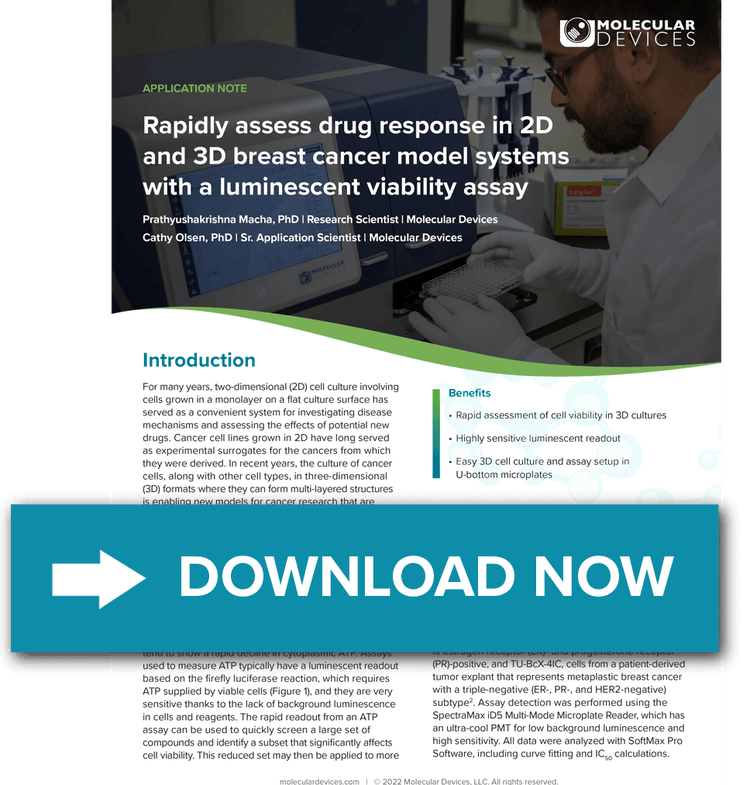 Register to download your application note today:
Rapidly assess drug response in 2D and 3D breast cancer model systems with a luminescent viability assay
Discover how the SpectraMax® iD5 Multi-Mode Microplate Reader, which has an ultra-cool PMT for low background luminescence and high sensitivity can provide:
Rapid assessment of cell viability in 3D cultures
Highly sensitive luminescent readout
Easy 3D cell culture and assay setup in U-bottom microplates
Versatile multimode microplate readers
Expand the boundaries of research
For nearly 40 years, we have partnered with scientists to help them achieve landmark discoveries. Our microplate readers and software are the industry's most cited and have empowered life science researchers to advance protein and cell biology.
Explore microplate readers
Our extensive SpectraMax® line of user-friendly microplate readers – the industry's most cited brand – provide great flexibility for labs conducting applications ranging from ELISAs to nucleic acid and protein quantitation and include absorbance, fluorescence, and luminescence. Configurable options include fluorescence polarization (FP), time-resolved fluorescence (TRF), FRET, and AlphaScreen. Upgradeable modules are also available including western blot, cell imaging, and fast kinetics with injectors.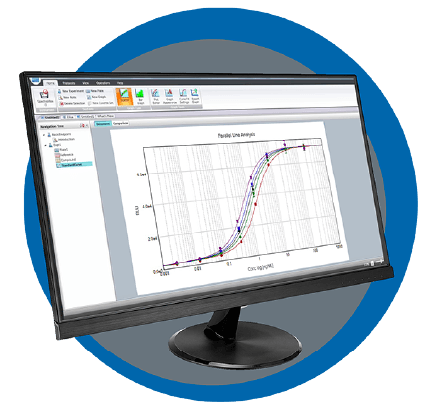 https://main--moleculardevices--hlxsites.hlx.page/products/microplate-readers/acquisition-and-analysis-software/softmax-pro-software
Explore microplate data acquisition and analysis
SoftMax® Pro Software provides the simplicity, flexibility, and power required for advanced data analysis with ready-to-run protocols, analysis algorithms, and 21 different curve fit options. Compliance tools are available for regulated laboratories providing end-to-end chain of custody.