APPLICATION NOTE
Quantify TNFα secretion by THP-1-derived macrophages with an AlphaLISA assay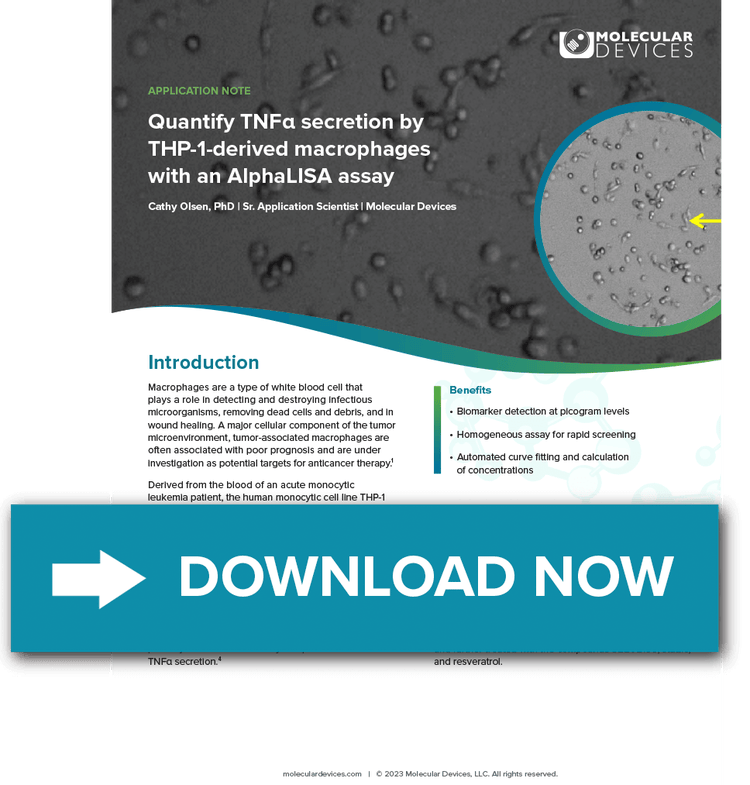 A major cellular component of the tumor microenvironment, tumor-associated macrophages are often associated with poor prognosis and are under investigation as potential targets for anticancer therapy.
Macrophages are a type of white blood cell that plays a role in detecting and destroying infectious microorganisms, removing dead cells and debris, and in wound healing.
In this application note, effects of several anti-inflammatory compounds on TNFα secretion by THP-1-derived macrophages were measured using the AlphaLISA High Performance (HP) Human Tumor Necrosis Factor alpha (TNFα) Detection Kit. Using the SpectraMax i3x Multi-Mode Microplate Reader and this homogeneous assay, picogram levels of TNFα were detected in culture medium removed from THP-1 cells activated with PMA and LPS, and further treated with the compounds SB202190, stattic, and resveratrol.
Learn more about the systems behind the methods:
SpectraMax i3x Multi-Mode Microplate Reader
Western blot, imaging, and injectors on one configurable microplate reader
SoftMax Pro Software
The most published microplate reader control and data analysis software
SpectraMax MiniMax 300 Imaging Cytometer
Observe the viability of your cells with the field-upgradeable cellular imaging option for the SpectraMax i3/i3x Multi-mode Detection Platform
More Great Resources