Application Note
Comparing performance of SpectraMax absorbance microplate readers using an endotoxin assay
Materials
PYROGENT-5000 Kinetic Turbidimetric LAL Assay (Lonza cat. #N383 (100 tests), N384 (200 tests))
96-well clear LAL Reagent Grade™ Multi-well Plates (Lonza cat. #25-340)
Pyrogen-free Dilution Tubes (Lonza cat. #N207)
LAL Reagent Water (Lonza cat. #W50-100)
SpectraMax® ABS Plus Microplate Reader (Molecular Devices cat. #ABS PLUS)
SpectraMax® Plus 384 Microplate Reader (Molecular Devices cat. #PLUS 384)
Methods
Both readers were heated to 37ºC prior to setting up the assay.
Reconstitution of reagents
Control Standard Endotoxin (CSE) was reconstituted with the volume of LAL reagent water (LRW) indicated on the Certificate of Analysis included with the kit to yield a solution of 100 EU/mL. The vial was vortexed for 15 minutes.
LAL Reagent was reconstituted with LAL Reconstitution Buffer according to kit instructions.
Standard curve
One standard curve plate was set up for each reader:
A solution containing 10.0 EU/ml endotoxin was prepared by adding 0.1 ml of the 100.0 EU/mL endotoxin stock into 0.9 ml of LAL Reagent Water.
A 1:10 dilution series, beginning with the 10 EU/mL standard and ending with a 0.001 EU/mL standard, was made in LRW for the standard curve.
100 μL of each endotoxin standard was added to triplicate wells of a LAL Reagent Grade Multi-well Plate.
The microplate was incubated at 37ºC in the preheated reader for 10 minutes.
100 μL of LAL reagent was then added to the wells containing the endotoxin standards, and the kinetic read was started immediately, using the preconfigured kinetic chromogenic LAL protocol in SoftMax® Pro Software, with instrument settings shown in Table 1.
Read mode
Absorbance (ABS)
Plate type
96-well standard clear bottom
Timing
Total run time: 01:40:00
Interval: 00:01:00
More settings
Carriage speed: Slow
Table 1. Instrument settings for kinetic turbidimetric assay on the SpectraMax ABS Plus and SpectraMax Plus 384 readers. A kinetic chromogenic LAL protocol in SoftMax Pro Software contains optimal settings and automates the analysis of results.
Uniformity test plate
For each reader, a microplate was set up with 48 wells containing 0.1 EU/mL endotoxin, arranged in an alternating (checkerboard) pattern with empty wells in between.
After a 10-minute incubation at 37ºC, LAL reagent was added to the assay wells, and the kinetic read was started using the instrument settings shown in Table 1.
Using the Data Reduction dialog in SoftMax Pro Software, the following parameters were used:
Set first data point to zero
Kinetic reduction: Onset time, with onset OD set to 0.03.
Average onset times were calculated by the software and plotted vs. endotoxin concentration.
Comparison of endotoxin data from both readers
Figure 1 shows the standard curves obtained from the SpectraMax ABS Plus and Plus 384 readers. Both standard curves had r2 values greater than 0.99, and for each standard (n = 3) the %CV values were less than 7.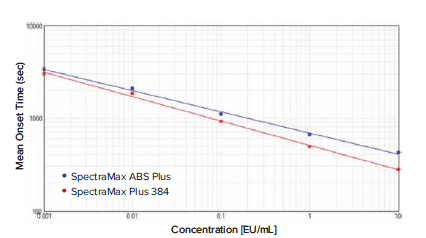 Figure 1: Endotoxin standard curves on SpectraMax microplate readers, plotted using a log-log curve fit. For SpectraMax ABS Plus reader, r2 = 0.996 (n = 3) ; for SpectraMax Plus 384 reader, r2 = 0.997 (n = 3).
Table 2 summarizes the results for the uniformity test. Here, the CVs for each plate were less than 3, and the difference between mean onset time for the plates run on the two readers was only 7%.
Instrument
Endotoxin, EU/mL
Mean value
SD
CV
SpectraMax ABS Plus
0.1(ABS)
1060
27
2.5
SpectraMax Plus384
0.1(ABS)
985
23
2.4
Table 2. Uniformity between SpectraMax microplate readers. A 7% difference in mean onset value for 0.1 EU/mL standard was observed between SpectraMax ABS Plus and SpectraMax Plus 384 readers.
Together, these results demonstrate that both SpectraMax ABS Plus and SpectraMax Plus 384 readers will deliver equivalent results: highly linear standard curves enable accurate endotoxin quantitation, and low cross-plate %CVs assure uniformity of results.