Application Note
Objective quantification of cell migration on the CloneSelect Imager System
Rapid scanning to monitor cell migration
High quality imaging and label-free detection of living cells using white light
Background
Cell migration is a key process in normal development, immune function and wound healing. Abnormal cell migration is a feature of conditions such as cardiovascular disease and cancer. The CloneSelect Imager system reveals the in vitro effects of therapeutic candidates and cell culture matrices on cell migration as well as the study of cell-to-cell interactions. Migration application software in CloneSelect Imager enables measurement of cell migration based on objective cell detection.
Method

Image capture and analysis

High quality data generation

CloneSelect Imager – objective, quantitative assessment of cell growth
The CloneSelect™ Imager system utilizes non-invasive, white light imaging to enable rapid, quantitative measurement of cell confluence and generation of growth curves well by well.
Fast results
Replace time-consuming manual inspection
Make confident, image-driven decisions
Obtain consistent results in under three minutes per 96-well plate
For applications including:
Rapid confluence measurement
Growth curve generation
Cell number estimation
Verification of monoclonality
Colony forming assays
Cell migration assays
Key parameters
Accepts multi-plate formats from single well to 384 well
4x objective lens
Resolution to 1.8 µm
Integrated barcode reader\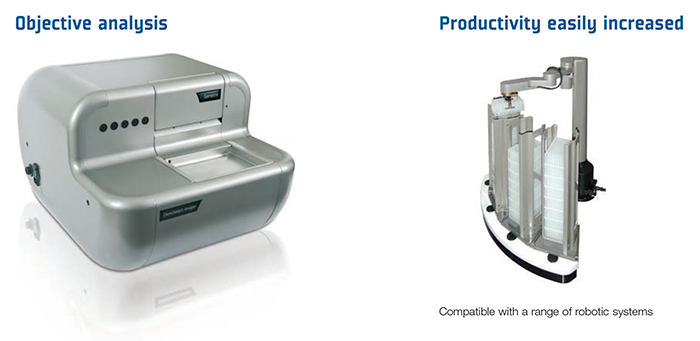 Rapid image generation and clear data analysis
ClonePix, CloneSelect, CellReporter are trademarks of Molecular Devices Ltd. All third party trademarks are the property of their respective owners. For a listing of trademark owners, visit www.moleculardevices.com/trademarks