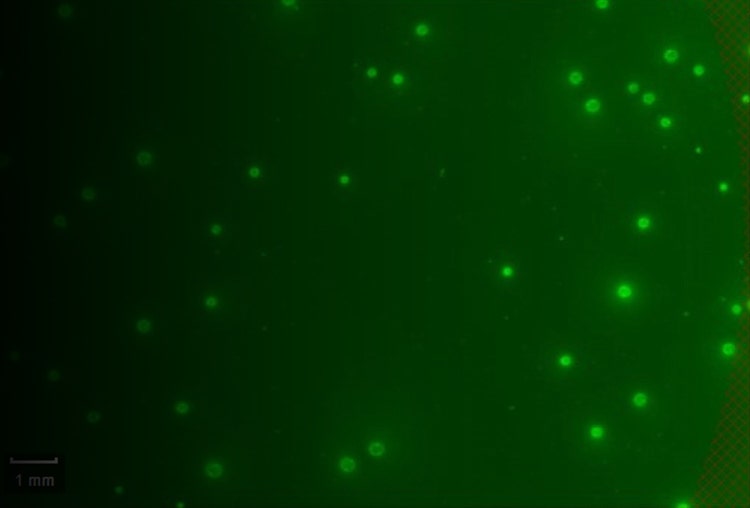 APPLICATION NOTE
Increase signal detection and optimize colony selection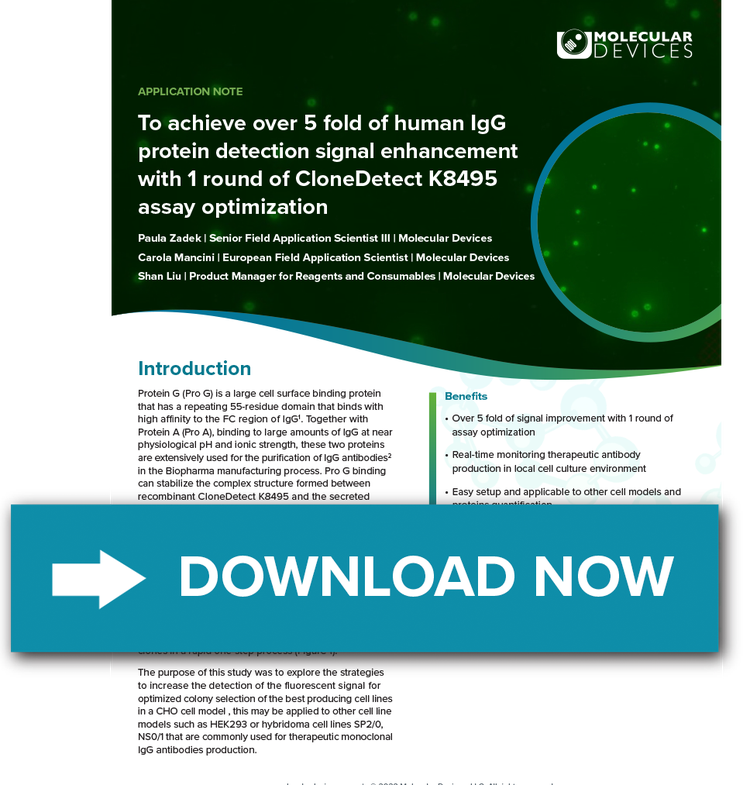 Register to download your application note today:
To achieve over 5 fold of human IgG protein detection signal enhancement with 1 round of CloneDetect K8495 assay optimization
Utilizing a combination of imaging and robotics, ClonePix System screens for clonality and productivity simultaneously prior to collecting the highest-producing clones in a rapid one-step process. Plus:
Over 5 fold of signal improvement with 1 round of assay optimization
Real-time monitoring of therapeutic antibody production in local cell culture environment
Easy setup and applicable to other cell models and proteins quantification
100% hands-free and walk-away solution to complement ClonePix 1-step workflow and improve clone screen efficiency
Learn more about the systems behind the methods
ImageXpress Confocal HT.ai system
Powerful multi-laser light sources, a deep tissue penetrating confocal disk module, water immersion objectives and modern machine learning analysis software
Ideal for highly-complex cell-based and 3D assays
Seven-channel high-intensity lasers generating brighter images with higher signal-to-background
Spinning confocal disk technology for deeper tissue penetration, resulting in sharper images with improved resolution
Water immersion objectives offering quadruple the signal at lower exposure times for greater sensitivity and image clarity without sacrificing speed
Optional IN Carta software, leveraging intuitive, modern machine learning
CloneSelect Imager and CloneSelect Imager FL
Verify monoclonality confidently
The all-new CloneSelect Imager FL adds high contrast multichannel fluorescent technology in addition to the standard white light imaging that allows for accurate single-cell detection and proof of monoclonality at day 0. Streamline your workflow with comparative confluence assays to identify and verify gene edits.
Document evidence of single cells and confluency digitally for auditing and submission to regulatory authorities
Image cells non invasively at multiple time points to monitor colony formation
Screen using high resolution white light imaging
Deliver real-time results with on-the-fly analysis
Automation and integration ready
More Great Resources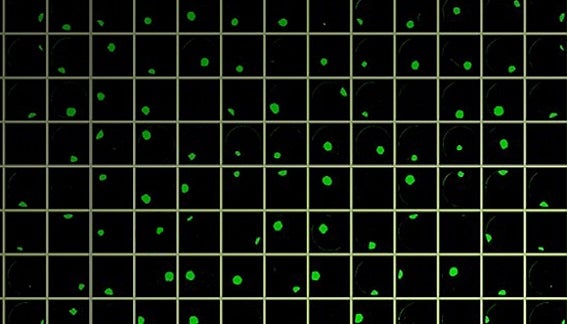 Application Note
CloneSelect Imager FL fluorescence for rapid day zero monoclonality
Gene editing allows DNA manipulation, i.e., addition, deletion, or modification using different tools. Several nucleases for…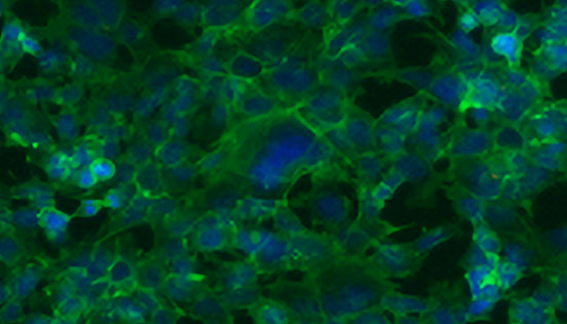 Application Note
Accelerating Gene Edited Cell Lines with the CloneSelect Imager FL
Gene editing technology allows the manipulations at the DNA level where it is deleted, added, or modified using various…